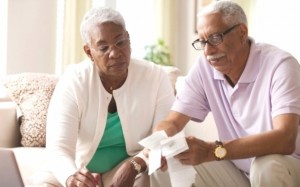 SAN BERNARDINO, CA– The San Bernardino County Department of Aging and Adult Services (DAAS), Adult Protective Services (APS) is creating awareness of abuse within the senior and dependent adult populations and encourages them not to be reluctant to report abuse of any type.
The awareness campaign, "It's Not Your Fault," aims to empower seniors to not be afraid or embarrassed to report abuse; and to let them know they deserve "Dignity, Fairness, and Respect." DAAS and APS staff will be speaking to seniors throughout the community during the month of May, "Older Americans Month," in an effort to help prevent and stop abuse of our elderly and frail.  Such abuse can take the form of physical, mental suffering, neglect, intimidation, isolation, abduction, sexual, and financial exploitation. Neglect and financial abuse are the most common.
Over 5 million elderly or vulnerable adults are abused and/or neglected in the U.S. each year, and many fall victim to scams and abuse often by a family member or caretaker. Some seniors are ashamed, or fear if they complain they will be institutionalized as a form of retaliation by a family member.  Many do not believe police and social agencies can really help them, or they think that no one will believe them.
The "I's Not Your Fault" campaign lets seniors know 'It's Not Your Fault if someone you love, respect, and/or depend on is not acting in your best interest.' Following the 2012 implementation of San Bernardino County's "It's Not Your Fault" campaign in the High Desert area, referrals for abuse increased over three times greater than in July.  The state-wide hotline to report abuse is 877-565-2020.
"Elder abuse tends to take place where the senior lives.  Most often, abuse is in the home where abusers are apt to be adult children or other family members such as grandchildren or spouses/partners of elders. "For every report of abuse of an older adult or an adult with a disability, five reports are not made," says DAAS Director Ron Buttram."
However, abuse can also take place in senior living facilities. The California Bureau of Medi-Cal Fraud & Elder Abuse (BMFEA) operates three programs designed to hold both persons and institutions accountable for abuse of elders: 1. The Violent Crimes program investigates and prosecutes physical elder abuse committed by individual employees against patients in elder care facilities (including homicide, rape, false imprisonment, assault and battery). 2. The Facilities Enforcement Team investigates and prosecutes the actual facilities for adopting policies or promoting practices that lead to neglect and/or poor quality of care, such as: a) Failure to provide medical care for physical and mental health needs; b) Failure to attend to hygiene concerns; c) Failure to provide adequate staffing; and, d)Failure to prevent malnutrition and dehydration; and Falsification of patient charts
The Operation Guardians program helps to help protect and improve the quality of care for California's elder and dependent adult residents in skilled nursing facilities by identifying instances of abuse or neglect via investigations that include "Surprise Inspections" that may lead to criminal or civil prosecution by the BMFEA. Actual reports of the guardians' "Surprise Inspections" can be found online at  http://oag.ca.gov/bmfea/elder — a good way to know what home NOT to reside in.
DAAS wants seniors and dependent adults who are victims of abuse to call California's Adult Protective Services hotline first at 1-877-565-2020.  All referrals are handled with discretion, dignity and respect. APS services are also available to persons between 18-64 years of age who are unable to protect their own interest due to a physical or mental disability.
With the "It's Not Your Fault" campaign, the DAAS is empowering seniors, at-risk individuals, and adults with disabilities ensure they have the resources to improve or maintain choice, independence and quality of life in the least restrictive environment possible.  To report abuse, call 877-565-2020.