By Lou Coleman-Yeboah
Talking 'bout can't touch this! Well, "Can't Touch This," I got One Word for you: Kryptonite…. ….That's right…. Kryptonite…. What? What you say? I can't hear you…. "Can't Touch this" talk to me…..Hello…. my point exactly… True enough, the Man of Steel is an iconic character and he is as powerful as they come.  Bullets can't hurt him.  Nothing is faster and he is the strongest that there is. But don't get it twisted, even Superman has a weakness. That mysterious green substance called Kryptonite. Yes, Kryptonite renders Superman useless. 
Listen to him as he is faced with Kryptonite…. "At that moment far out in space, strange…., I feel so weak…. No strength at all! Dizzy… faint… as though I'm near Kryptonite! May be an asteroid containing it nearby, I'll check with my X-ray vision! WH—What? This ship… It-its lined with Kryptonite…. And over that, a layer of lead… the only substance my X-ray vision can't penetrate… Th-this is a trap… a flying coffin that will carry me helplessly through space forever." Now ain't that 'bout nothing….. Can't touch this….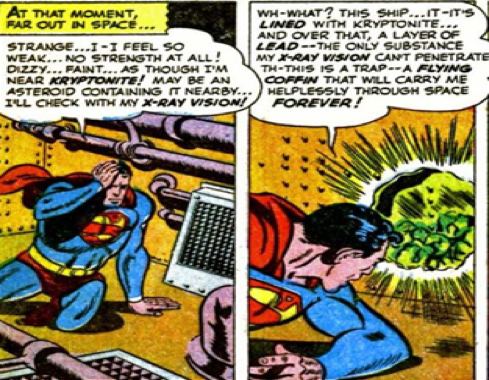 I tell you, you better listen to Superman because Satan has also placed traps out for you to get caught in. Pitfalls to fall into [Psalm 119:110]. As [Hebrew 2:1] says, "It's crucial that you keep a firm grip on what you've heard so that you don't drift off. Don't be fooled…. Kryptonite will destroy you.  Don't look up; don't look back; run for your life!" [Genesis 19:17b]. You have not a moment to lose. "Escape," the angels says, "for your life- it is now or never. A few more minutes, a few more hours, and it will be too late."
You see the Bible tells us in [Ephesians 6:11] that we fight an enemy that uses "wiles" to get his way in our lives. Satan would like nothing better than to trip you up and cause you to fall into one of his traps. Just before Jesus died, remember He told Simon Peter that Satan desired to have him that he might sift him as wheat, [Luke 22:31-32]. Satan wants to do the same to you and me. He wants us to fall. He wants us to fail, and he will stop at nothing to bring that to pass.  So, beware of every impulse, temptation that comes down the line. Check out everything by the Word of God and by the will of God and the Lord will always lead you in the right way!
Realize your danger. Don't trifle with your own soul, with hell and heaven, with God and His bleeding, inviting Son. Now, now, now! "Set thine house in order; for thou shalt die and not live." There is but a step between us and death. [John 3:36]. Know that Lady Wisdom only allows a window of time to show your love for truth and wisdom. If you neglect or reject her offer, she will withdraw and neglect or reject you in your great hour of need when you call upon her for help [Proverbs 1:20-32]. Don't delay! Destroy what steals your strength, because Satan will use slick and enticing speech to get you to yield to his plans for your life. He practiced this kind of trickery in the Garden of Eden when he talked to Eve, [Genesis 3:1-6]. He told her that she could question God's Word; He told her that God did not really mean what God has said; He told her that God was really just holding out on her. In other words, Satan will give you every reason in the world to justify the things he wants you to do. Then when you have followed him and are out of God's will and in trouble, he will discard you like a piece of trash and leave you to rot in your sins! You better know that you know! Don't be deceived. You see, [2 Corinthians 2:11] tells us that Satan desires to gain an "advantage" over us and to do this; he will use every trick in the book to get us to follow him into failure. Be careful because the Enemy can be deceptive. He can be destructive. You do not have to fall for everything the devil tells you! He is a liar and the father of it, [John 8:44]. The Bible tells us in [Ephesians 4:27], that we are not to give "place" to the devil in our lives. We must always be on guard to avoid his attacks. Don't even let him have so much as a foot in the door! Take the steps that are necessary to defeat the devil and walk in victory!
David writes: "The proud have hid a snare for me…" [Psalm 140:5, emphasis mine]. The trap that the devil or the wicked are setting for you is something you can't see. It is laid in secret: "…they privately [secretly] laid a snare for me" (142:3). "…they commune of laying snares privately…" (64:5). Perhaps you are caught in a snare right now – trapped by the enemy. At one time, you were like a bird, flying about, singing a sweet song. You spread your wings of faith and soared into the heavens. You knew what it meant to be free in Christ. But the enemy set a trap for you – he laid out his net and placed the corn nearby – and you went for it. You flew down, caught your foot in the fowler's net, and the trap sprang. You were caught! And today you sit in bondage, feeling trapped by your sin.
Don't worry be happy; I have incredible news for you. If you've been trapped by the enemy – if you have fallen into his snare, yet you know you love God with all your heart – the Lord will not allow you to be the enemy's victim. He will not let you remain in the devil's teeth. You are about to be set free! "Blessed be the Lord, who hath not given us as a prey to their teeth" (Psalm 124:6). The snare is broken-and we have escaped! [Psalm 124:7] Yes & Amen to that!