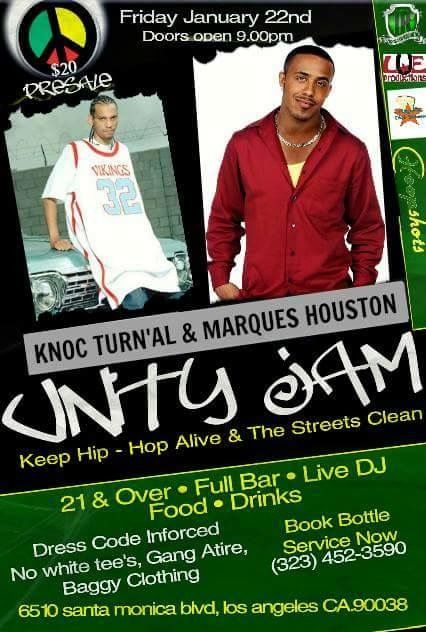 What It Do Inland Empire. It's the first article of 2016. Let me just say thank you Lord for allowing me to make it. Now moving on I'm totally excited about this year and all its new opportunities we have for Indie Artist.
On Friday, January 22 in Santa Monica at the Dragon Fly Night Club, LUE Productions will be involved in the UNTIY JAM sponsored by Involved Records.  We have rapper Knoc Turn' AL and sexy R&B singer Marques Houston starring and our very own Gwaap Fam opening up. The event will be a blast as we celebrate UNITY.
LUE Productions is always about being positive within the community and giving back. We have performance slots available for artists wanting to perform. Please contact us at via Facebook under "LUE Productions" or text (909) 567-1000. The same applies for tickets. Until next week folks L's. San Bernardino Strong!
About LUE Productions: 
LUE PRODUCTIONS is an entertainment/management/production company established in 2005 with the mission of offering a safe and productive environment for artists of all ages to display their talents. Based out of the Inland Empire, we pride ourselves in bringing forth unique and entertaining shows. Specializing in Community, Corporate, and Private Events, we are strongly focused on the ARTS, the YOUTH, and the COMMUNITY. We work hard in our community and spend time giving back.
Please help us by checking out our page on FACEBOOK and clicking the like button. We hope you share with your family and friends! Thank you!- LUCRETIA DOWDY, CEO and Founder.
Donations in support of our efforts is appreciated and can be made via PayPal at
Lue.info@yahoo.com or (909) 567-1000.