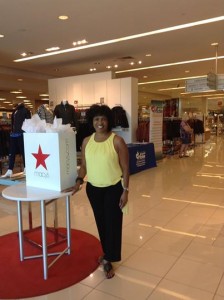 LOS ANGELES, CA- Macy's ninth annual "Shop For A Cause" one-day shopping event has raised $60,000 in support of the March of Dimes mission to help moms in our community have full-term pregnancies and healthy babies, it was announced today. Programs for moms and babies in our area that will benefit from these vital funds raised include:
Supportive group prenatal education to teach pregnant women to have a healthy pregnancy and promote healthy behaviors and equip women to make better decisions about their health care.
Services to hospitals and health care providers to help them reduce the numbers of elective cesarean sections and inductions of labor between 37 and 39 weeks of pregnancy.  Reducing early elective deliveries is safer for mothers, reduces the risk of medical complications for babies, and results in lower health care costs.
The March of Dimes was the exclusive national beneficiary of in-store and online savings pass sales for Macy's 2014 "Shop for A Cause." For more information about "Shop For A Cause," visit macys.com/magicofgiving.