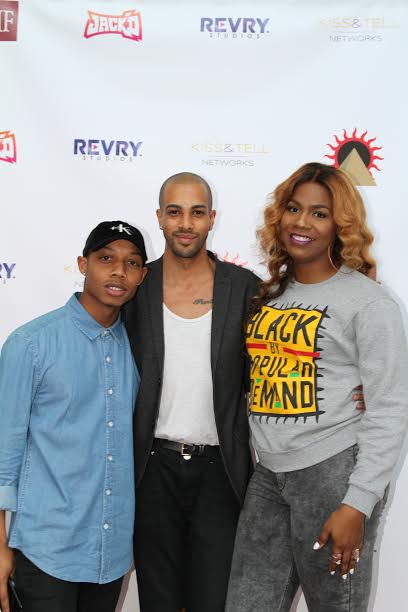 LOS ANGELES, CA- Last weekend Kiss & Tell Networks celebrated two years of "advocacy with style" in the LGBTQ community. Launched in 2015, the team of movers and shakers has successfully hosted seven live panel discussion events creating candid conversation around topics from pop culture, politics, sexual health, and social stigmas surrounding same sex relationships. Ranging from drag queens to political activists, all of racially diverse of color, the event opens the door to publicly address current issues and ways to solve and unite the society. The California State Assembly awarded the trailblazers of Kiss & Tell Jazmyn Simone, Gabriel Maldonado, Michelle Michaels, "Amber Closet" and Shar Jossell with official state sealed Certificates of Recognition. Leo Jimenez, a thriving product of foster care, was always given the Youth Award for his involvement in the community. 
Following live music from Los Angeles singer AJ Calloway, guests celebrated at the "Lovers Ball" Champagne Reception at Redline DTLA powered my In The Meantime, Men's Group.
Organically meant to be a single Valentine's Day event, Kiss & Tell Networks has expanded to shows across the country including New York City, Las Vegas, and introducing Puerto Rico in junction with Xscape Music & Arts Festival Memorial Day Weekend 2017.
Kiss & Tell Networks fans enjoy the biweekly comedic yet informative podcast Kiss & Tell Radio with creator Jayce Baron and media junkies Shar Jossell and Kendall Wright. Kiss & Tell Networks has collaborated with the Los Angeles LGBT Center for "Models of Pride", the largest national LGBTQ youth conference, is now signed on with REVRY to co-produce upcoming "queerrated" digital content, among other accolades achieved since the first show in Downtown Los Angeles. 
Kiss & Tell Live was Sponsored by In The Meantime, AIDS Healthcare Foundation, and Jack'd