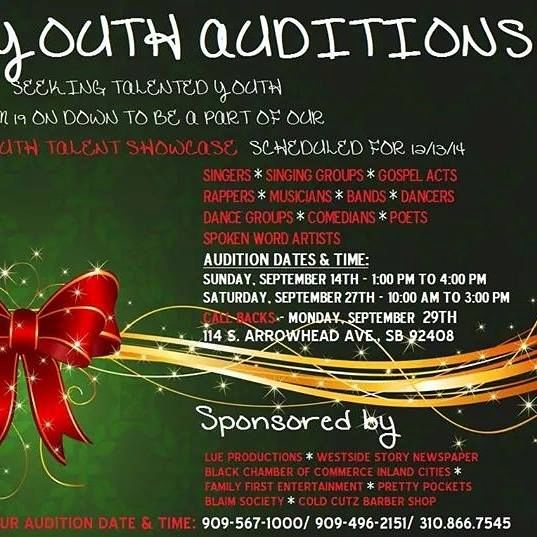 Youth Auditions is WHAT IT DO this Saturday! The auditions are being sponsored by LUE Productions, Westside Story Newspaper, Black Chamber of Commerce Inland Cities, Family First Entertainment, Pretty Pockets, and Cold Cutz Barber Shop.  Youth will be auditioning for the 'Youth Showcase' which will be held on Saturday, December 13th .
This is a Great opportunity for our FUTURE TO SHOWCASE THEIR TALENT! We are calling all Gospel Acts, Singers, Singing Groups, Poets, Spoken Word Artists, Dancers, Rappers, Comedians, and More! We are also looking for youth hosts and models. All participants must be 19 and under.
The auditions will take place on Saturday, September 27 from 10 a.m. to 3 p.m. at 114 S. Arrowhead Avenue in San Bernardino (92408). You may send us an audition tape if unable to make auditions. All final contestants will be contacted by Monday, September 29.
For more information, please contact LUE PRODUCTIONS (909) 567-1000 or by email at Lue.info@yahoo.com. You may also contact BossRell of LUE P. at (909) 496-2151, TeeAuna of Pretty Pockets (model coordinator) at (310) 866-7545, or Deeveatva Foy of LUE P. (model coordinator) (909) 556-7637