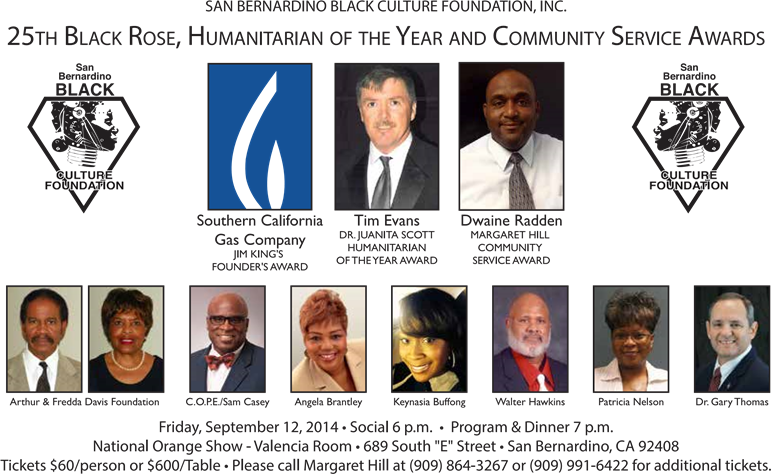 SAN BERNARDINO, CA- On Friday, September 12, the San Bernardino Black Cultural Foundation is proud to be celebrating 25 years of honoring unsung heroes. The Black Rose was the brainstorm of Dr. Juanita Scott, Jim King and Jeffrey Hill.  It was evident to them and to us that many individuals, companies and organizations were doing exceptional volunteer work in the Inland Empire but were not getting recognition.  These are, indeed, our unsung heroes because these volunteers do not look for compensation or recognition.
This year's honorees include Tim Evans, founder of the Unforgettables Foundation; Dwaine Radden, Sr., newly appointed CEO of The PAL Center and PAL Academy High School; and The California Gas Company. Other long time sponsors being recognized include  The City of San Bernardino; Edison International; Arrowhead Credit Union; San Bernardino Unified School District; Dameron Communications; Derrick Vasquez; Community Hospital of San Bernardino; San Manuel Band of Mission Indians; and Adeola Davies-Aiyeloja. The Black Rose winners are as follows:  Arthur & Fredda Davis Foundation, Angela Brantley, Keynasia Buffong, C.O.P.E., Walter Hawkins, Patricia Nelson, and Dr. Gary Thomas.
The Awards Banquet will be held at the National Orange Show Valencia Room, 689 South E Street (entrance on Arrowhead Avenue). Social hour is at 6 p.m. with dinner and program beginning at 7 p.m. The cost for this event is $60 per person or $600 for a table of ten. Contact Margaret Hill at (909) 864-3267 or (909) 991-6422 for tickets.