By Anthony Garcia
The group Latin Express had just finished their performance for the Rialto Jazz Festival on Saturday, March 25th. This seemed to be the perfect time to speak with some of the musicians performing.
Pete Ortega, saxophonist performing with the Sounds of Sunrise Group. A musician "gunslinger" mentioned to me he recently was on the road with Stevie Wonder's USA tour band. Mr. Ortega is an excellent player and a gentleman's musician.
From The Frenz Band, Sir Ronnie Wells (guitar player) and Gabriel (trumpet player) were happy to perform at the festival and felt positive of their performance. Concert goer Gabby agreed.
The David Benoit Trio, world class musicians were absolutely amazing. The trio was on a roll when the Eisenhower High School choir stepped onstage, the rain stopped and the sky turned a beautiful spring blue with puffy white clouds. A beautiful, exciting performance. David Benoit is a class act on and off the stage.
Sounds of sunrise, aspiring performance, good music and vocals.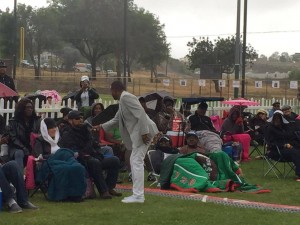 The Latin Society Orchestra local IE music legends have been performing for at least 30 some odd years. They are one of the Inland Empire's favorite groups. Moe (bass player and leader of the 13 piece Latin group), mentioned his drummer Mike Coyazo has been with the band for over 20 years. Richard Ramos (horn player extraordinaire) is second in seniority. They are the heartbeat of the group. Legendary Latin Society 13 piece orchestra; well tuned orchestra, two trombones, great rhythm and singing English and Spanish.
Now to the headliners! Byron Millers Tribute to George Duke All Star Band were funky, funky, funky. The band consisted of some of the music industry's most sought after hired guns. George Duke himself would be proud of their performance. I met Byron Miller and Sheila E. in Sao Paulo. Brazil. They both were in George Duke's band. I was playing bass for Raul De Souza's Jazz Funk Brazilian Band. Byron and Sheila E. were amazing then and even more so now.
The all star performance this evening was an overwhelming musical treat. The audience seemed to be digging the tribute to the master George Duke. Byron took time between tunes to mention that Stevie Wonder was with George Duke when he passed. They were best of friends. The band played one of Stevie Wonder's songs. Byron also mentioned he performed with Luther Vandross for 15 years.
My schedule did not allow me to catch the beginning acts of the festival, but I spoke with many people who saw the early acts snd were more than satisfied to have such an event in their own backyard.
Sheila E., one of the premier percussionists in the music world, has performed with Prince, George Duke, her father Pete Escovedo, her godfather Tito Puente, and many more legends of Jazz throughout her successful career. She is no stranger to the big stage, and took control of the final set. I have to admit the audience was graceful, patiently tolerating the elements. Rain, wind,and mud could not drive them away. Sheila E., who started an hour late on this cold, wet day, had us die hards ready and pumped up. She had an awesome backup band, catering to her every move. Halfway through the show, she stopped and asked why were there people behind the white picket fence. These were the general admission seats. She then asked the promoters if it would be OK if these people could come up to the VIP section. Soon after her request was granted. Now that's the Sheila E. I remember. From that point on, her performance was awesome. Performance for the people.Hosted by Tommy Davidson and Josefa Salinas made possible a successful evening of important and beautiful music.
Rumor has it the next festival will be a 3-city project with the Mayors of The City of Colton, Rialto and Fontana merging for the cause.