Local
Jazz and R&B every Sunday at Sevilla Jazz House, 3252 Mission Inn Blvd. in Riverside, from 9 p.m. to 2 a.m.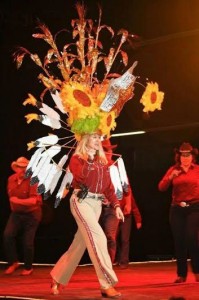 SAN BERNARDINO, CA- Rehearsals for the Assistance League of San Bernardino's 53RD Annual Signature Headdress Ball are in full swing and coming to the final weeks of practice for the 10 headdress models and the volunteer dancers that will be performing with them. The National Orange Show will play host to this year's Headdress Ball on Saturday, April 12. There will be a matinee performance at 10 a.m. that will include lunch and the presentation of the headdresses.  The cost to attend the matinee is $75 per person.   The evening gala celebration will begin with a cocktail reception at 5:30 p.m. sponsored by the Signature Club.  Tickets for the evening black-tie performance are $150 per person.  The tables seat 10 for the evening dinner performance. This year's headdress models will include Assistance League members: Lillian Vasquez-Wisegarver (Colton), Nancy Gutierrez (Rancho Cucamonga), Margaret Ortiz (San Bernardino), and Marsha Scott (Redlands).  Representing Les Confreres, an auxiliary organization of the Assistance League are Louise Hummel (San Bernardino) and Danielle Hilder (LakeArrowhead). Special guest models that will be representing community interests include: Tammy Martin-Ryles (San Bernardino) representing Inland Empire Black Chamber of Commerce; Geri Jure (San Bernardino) representing Friends of Assistance League; Maria Saenz (San Bernardino) representing San Bernardino Sinfonia Mexicana; and Mary Ann Quiggle (San Bernardino) representing the San Bernardino Chamber of Commerce.
All proceeds from the matinee and the evening performances will go to benefit the children of San Bernardino through the support and funding of the Dr. Earl R. Crane Children's Dental Health Center and Operation School Bell, a program that provides clothing for needy children. To purchase tickets contact Bobbi Simenton at (909) 862-0732 or you may send your reservations to 3344 Parkside Drive, San Bernardino, CA  92404.  Make checks payable to the Assistance League of San Bernardino.  Tickets and donations to Assistance League are available online at http://headdressball2014.eventbrite.com.
LOS ANGELES, CA- Wells Fargo Education Financial Services and First Generation Films recently  kicked-off the "Go College!" tour, a national education initiative launching in Los Angeles with screenings of the award-winning documentary First Generation at six Los Angeles Unified School District high schools and culminated with a red-carpet screening at L.A. Live. Go College! Los Angeles was the first of 70 film screenings and a 10-city tour bringing together filmmakers, educators, subject matter experts, civic and community leaders for panel discussions to encourage a national conversation on how students and parents can make attending college a reality.
Filmed over the course of three years, the First Generation documentary is narrated by two-time Golden Globe Award nominee Blair Underwood and explores the problem of college access faced by first generation and low income students. The documentary profiles the journey of four students attempting to break the cycle of poverty and bring hope to their communities as they pursue their college dreams.
The Go College! tour features free screenings for students and educators at local high schools and other locations in select cities. At each screening attendees will have the opportunity to engage the filmmaking team of Adam and Jaye Fenderson, cast members, Wells Fargo private student lending experts and local educational leaders in a dialogue focused on how to make attending college a reality. Free information packets on college application processes, scholarship opportunities, tips to estimate college costs, and how to capitalize on various funding sources to pay for college will be provided at all screenings.
Go College! next tour stops include Las Vegas, Phoenix, Oakland and Washington DC in Spring 2014. In Fall 2014, the campaign will visit the cities of Atlanta, Miami, Minneapolis, Houston, and Dallas. For tour information, please visit www.FirstGenerationFilm.com/gocollege.