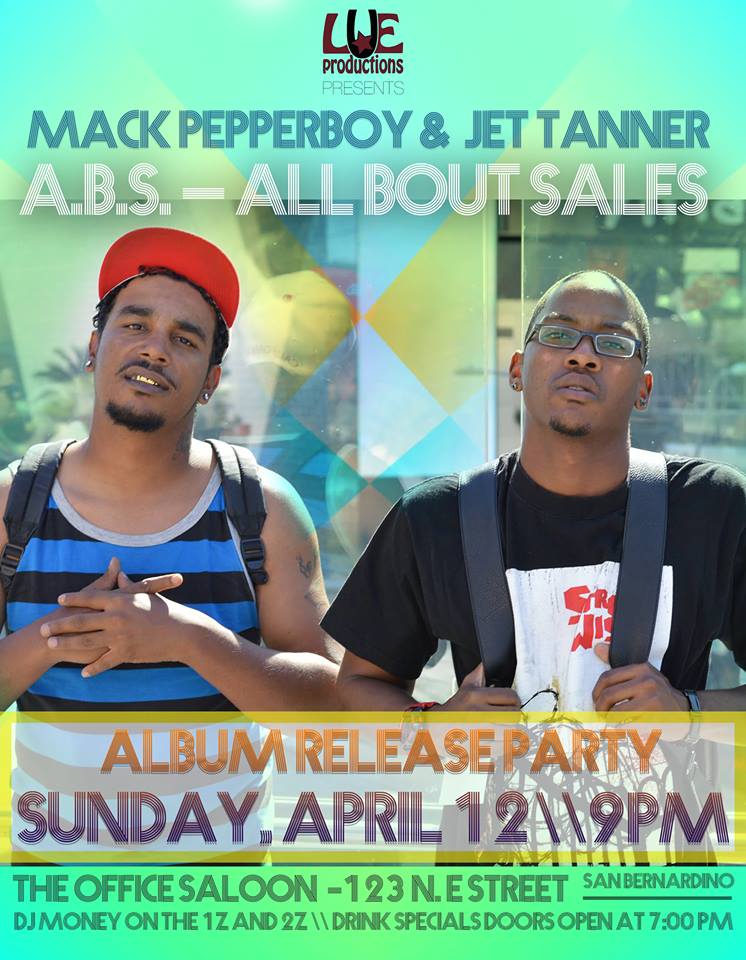 Attention! Attention! Attention! This week the Album Release Party of LUE Productions artist Mack Pepperboy and recording artist Jet Tanner is WHAT IT DO! Two talented forces have united together to bring forth a powerful project!
This Sunday, April 12, is the album release party for their project titled, A.B.S., which stands for "ALL BOUT SALES". The project features songs such as, "All I know", "Backpack and Shades", and "Birthday". I think the name of the project is perfect for these two artists due to their nonstop hustle. When I say hustle, I'm referring to their push of their album sales. It is no secret how often they go back and forth out of state promoting and networking. They understand the importance of being relevant and staying before the people.
Mack Pepperboy is an artist with that Cali sound and New Orleans flavor. His bars and performance will leave you wanting more while Jet Tanner is an artist that brings that swag through his lyrics and his beats. Are they the modern day Batman and Robin but musically?  Well, I say yes! The chemistry just works. So, with that being said please come out this Sunday and support these two talented artists. Make sure to check out their music links on all media sites under Mack Pepperboy and Jet Tanner. Until next week L's!
Come Support Please! LUE Productions Presents (The Album Release Party of Mack Pepperboy & Jet Tanner), Sunday, April 12 at the Office Saloon in San Bernardino at 123 N. "E" Street. The night will also include other Performances, live music from DJ Money on the 1z and 2z. There is a $5 cover charge, and a $3 cover for affiliates only. For more information please call (909) 567-1000.