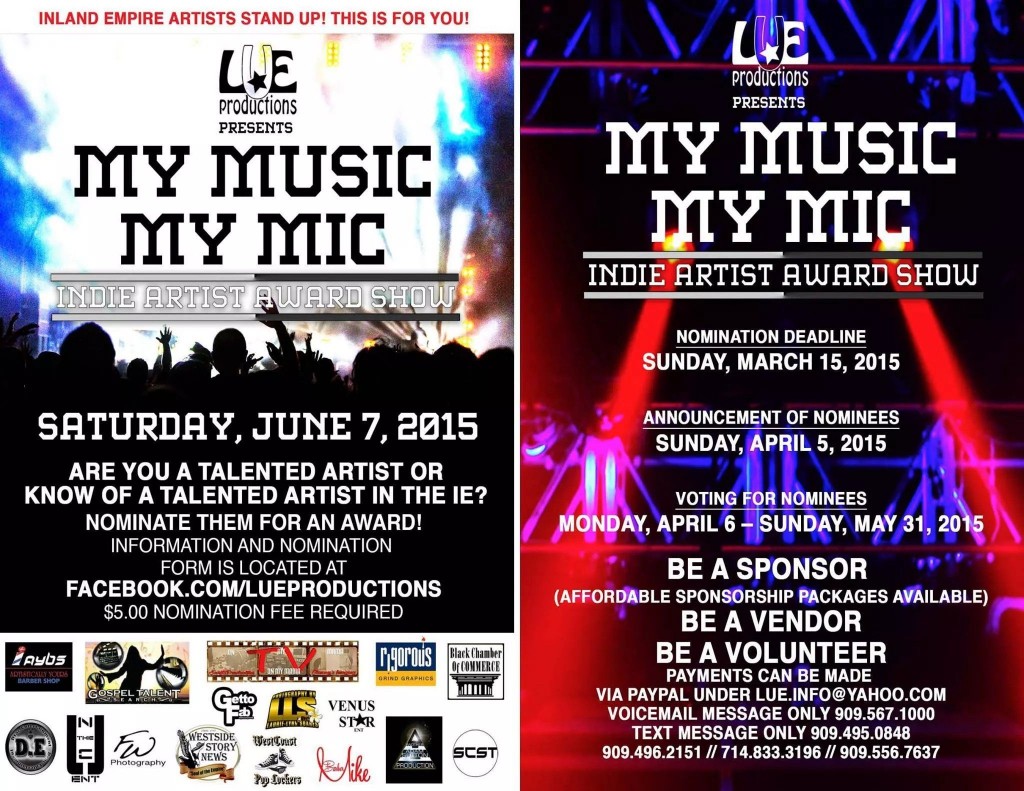 What up my beautiful folks! This week nominations are WHAT IT DO! Inland Empire artist's stand up, this is for you! LUE Productions presents, "MY MUSIC, MY MIC", an Indie Artist Award Show! The show will be taking place on Saturday, June 6.
Are you a talented artist or know of a talented artist in the IE? If so, then nominate them for an award! Information and  Nomination form is located on the LUE Productions Facebook page at www.facebook.com/Lueproductions, or vote from your mobile device at www.jotform.us/form/43547972384164.
The nomination deadline is Sunday, March 15 and the announcement of nominees will be on Sunday, April 15. There are also plenty of opportunities to be a sponsor (affordable sponsorship packages available), a vendor, or a volunteer. For more information on volunteer and sponsorship opportunities, please leave voicemail message at (909) 567-1000, or send a text to (909) 495-0848, (909) 496-2151, (714) 833-3196, or (909) 556-7637.
The nomination categories include: R&B Best Mix Tape, R&B  Best Album, R&B  Best Song, R&B Best Male Performer, R&B Best Female Performer, R&B Best Group, R&B  Best Video, Rap/Hip-Hop Best Mix Tape, Rap/Hip-Hop Best Album, Rap/Hip-Hop Best Song, Rap/Hip-Hop Best Male Performer, Rap/Hip-Hop Best Female Performer, Rap/Hip-Hop Best Group, and Rap/Hip-Hop Best Video.
Other Categories are: Hottest Music Producer, Hottest Song Collaboration, Hottest Female Video/Model, Hottest Battle Rapper, Hottest Gospel Rapper, Hottest Dance Crew, Hottest DJ, Hottest Urban Designer, Hottest Internet Radio Show, Hottest Indie Artist Publication, Hottest Graffiti Artist, and Hottest Video Production.