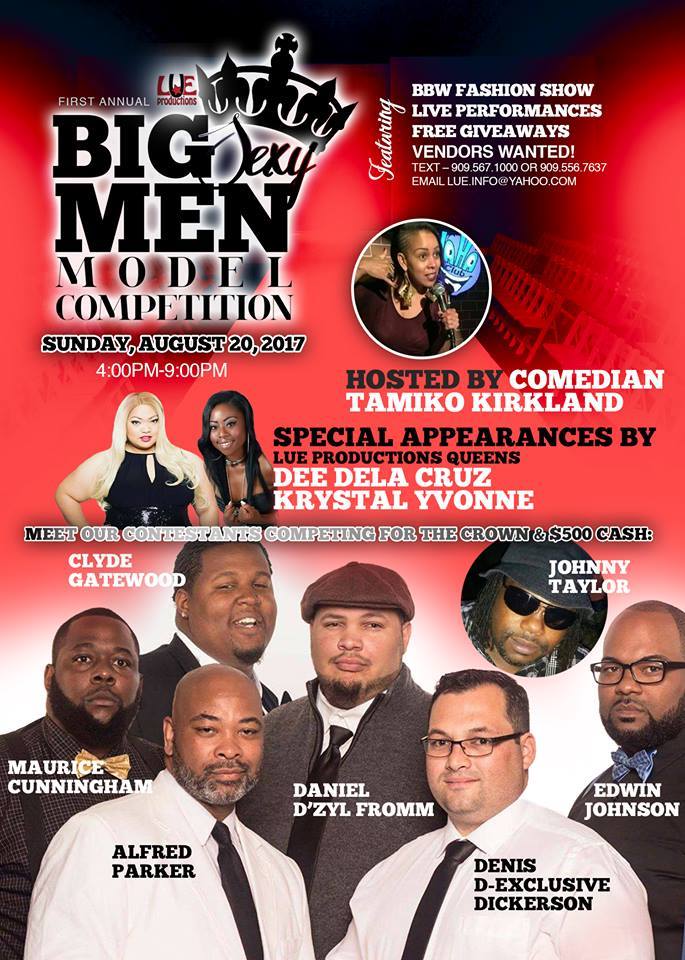 By Lue Dowdy
Three more Big Sexy Men is WHAT IT DO! Calling all you sexy big men to strut on the runway for the 1st Big Sexy Male Competition in the Inland Empire!
LUE Productions is doing it again by bringing entertaining shows and events to the Inland Empire. Are you the next B.S.M.? Do you think you have what it takes to take the crown and the $500.00 in cash? If so, register today with LUE Productions today. The show is scheduled for Sunday, August 20. This will be epic! Tickets are available online at Brown Paper Bag Tickets (http://bpt.me/2916554). Details below and until next week L'z!
The contestants competing are Alfred Parker, Clyde Gatewood, Daniel Fromm, Denis Dickerson, Edwin Johnson, Jonny Taylor, and Maurice Cunningham. The event host is comedian Tamiko Kirkland and there will be special appearances by models Dee Dela Cruz and Krystal Yvonne. Each male contestant will be competing in the categories of Boss Look! Must utilize some sort of prop. Judges will give high scores for the best prop; Summer Nights on Catalina Island; Free Style look, Question round and final walk (Formal Attire); and Talent.  All contestants must provide a 2 to 3 minute performance. You can SING, rap, play an instrument, dance, recite poetry, and or act. whatever your talent is show it off.
We are currently looking for vendors. If interested, please call (909) 567-1000 or email Lue.info@yahoo.com.