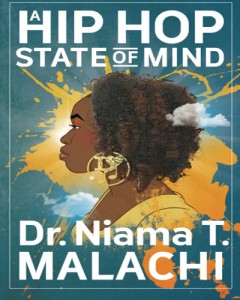 Are Strippers, Drugs, and Money keeping Hip Hop alive? Or, does Hip Hop continue to survive due to its ability to inspire, motivate, and passionately serve as a voice for its fans worldwide? Has Hip Hop been over commercialized? Has its message been lost in all the money it generates? Are there smaller genres of Hip Hop that still embody the true nature of the musical movement? Is Hip Hop truly an expression of freedom of speech for a generation? From NWA and censorship to Common and Fox News, for a number of decades Hip Hop has taken on more than its fair share of criticism. Yet, after 40 years since its creation, a plethora of questions still remain.
In order to answer some of the most complex questions about Hip Hop, Dr. Niama T. Malachi orchestrated a dynamic study that would take her from the streets of Bronx, NY, where Hip Hop originated, to Hip Hop in its current most active form. She submerged herself in the Hip Hop culture by meeting with artists, video models, executives, pioneers, and members of the culture. She attended numerous video shoots, concerts, parties, cultural events, tours, and lectures; even once bravely taking on the role of a video model herself! During the study, Dr. Malachi ingeniously employed social psychological theory to evaluate the state of Hip Hop and its impact on the Black Community.
The OFFICIAL release date for "A Hip Hop State of Mind" is May 6th, 2014 and will be available on Amazon, Kindle and at Barnes & Nobles.  The launching of the book includes special invite release parties that will include panel discussions.
In the fall of 2014, Dr. Malachi begins her book tour and is presently accepting tour dates for locations to include New York, Atlanta and California with various Universities, bookstores and organizations. The tour will also include speaking engagements as well as opportunities for panel discussions at conferences and seminars. To schedule Dr. Malachi for book signings or speaking engagements, please contact KimiRhochelle of KRPR Media at krprmediadrmalachi@gmail.com.
About Dr. Niama T. Malachi
Dr. Niama T. Malachi hails from humble beginnings. With insurmountable determination and drive, she has forged through many obstacles. She recently attained a Doctorate in Applied Clinical Psychology from The Chicago School of Professional Psychology. In addition, she holds the position of Director of Performance Improvement, under the umbrella of a Fortune 500 company; she is also one of the youngest Directors in the organization. Dr. Malachi's advocacy and activism is focused towards mental health services for underserved populations and the use of Hip Hop as a catalyst for social change. Her pioneering research initiatives involve Hip Hop and its impact on the black community, with over five years of concentrated experience on this topic. Dr. Malachi is a proud member of Delta Sigma Theta Sorority, Inc., where she served as the co-chair of the Pomona Valley Alumnae Chapter's Social Action Committee. In this capacity, she also co-chaired the award winning State of Black Male/Female Relationships Conference. Dr. Niama T. Malachi is driven to provide mental health services for underserved populations. She continues to relentlessly construct ingenious methods in her approach.
Dr. Malachi will use social media as a communication forum for her readers and those that have questions.  Readers will be able post various scenarios and ask personal questions that will be answered.  In addition, Dr. Malachi will have various online discussions about "A Hip Hop State of Mind". 
For more information on Dr. Niama T. Malachi, please visit www.drniamamalachi.com.