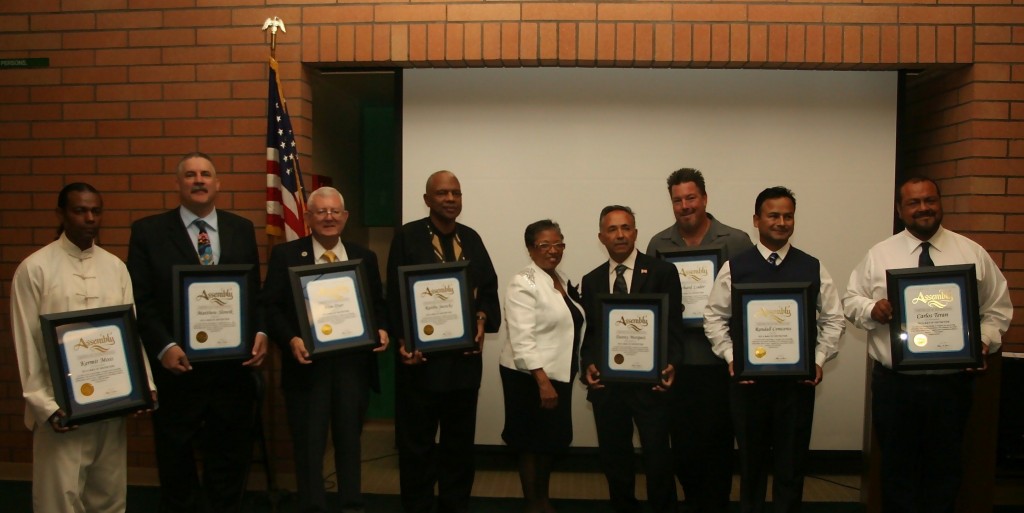 SAN BERNARDINO, CA- Assemblymember Cheryl R. Brown (D-San Bernardino) honored outstanding men from the 47th Assembly District at her annual Men of Distinction program on Friday, June 20, at the Grand Terrace Community Center. The recognition event was attended by the honorees and their family members and included special appearances from Mayor Carey Davis, Mayor Pro Tem Virginia Marquez and Councilman Rikke Van Johnson, City of San Bernardino; Mayor Pro Tem Edward Palmer, City of Rialto; City Treasurer Janet Koehler-Brooks, City of Fontana; and Trustee Joseph Williams, San Bernardino Community College District.
The 2014 honorees included: Trustee Randall Ceniceros, Colton Joint Unified School District; Carlos Teran, a longtime community advocate; Alan Dyer, a member of the Board of Directors at the West Valley Water District; Richard Loder, a community volunteer and youth advocate;  Ratibu Jacocks, a consultant and executive board member of the Westside Action Group (WAG); Danny Marquez, founder of Veterans Partnering with Communities, Inc., Kermit Moss, a small business owner; and Matthew Slowik, a planning commissioner for the City of Fontana.
For more information, contact Ashley Jones at (909) 381-3238.