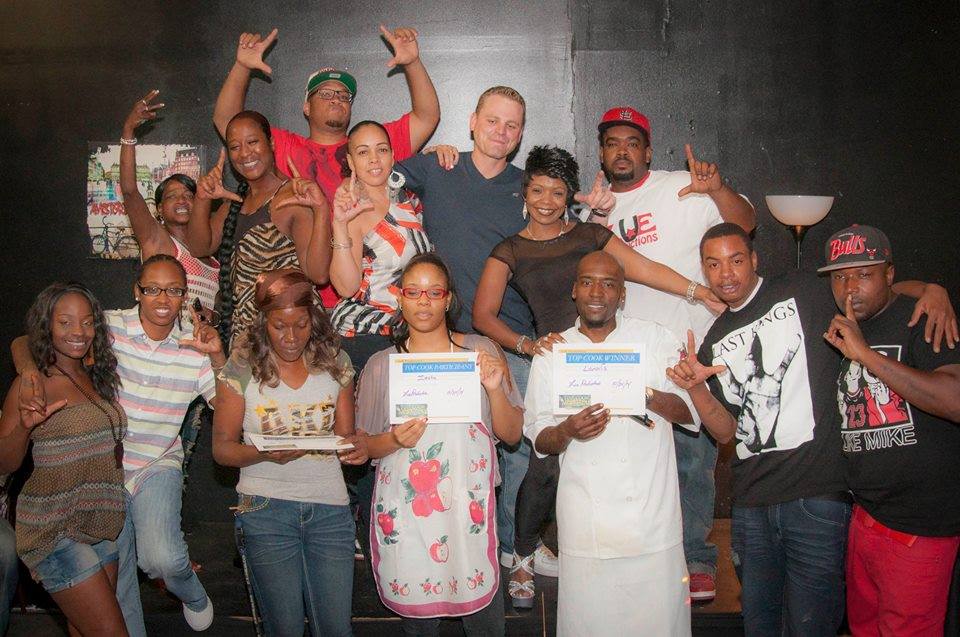 What it Do! OMG, if you missed our TOP COOK COMPETITION/COMEDY SHOW Fundraiser on Friday, October 24 then you missed one heck of an event. The night was beautiful, as well as the dishes presented by our three competitors Iesha Nelson, Lawanda Lee, and Lanoris Brown. However, as we all know there can only be one winner. That night Chef Lanoris Brown reined supreme receiving high scores in taste, presentation, skill, and overall performance. Chef Brown, along with his team, came with their A-game on all levels, and he was crowned LUE PRODUCTIONS TOP COOK.
Audience members were able to experience some of the fabulous entrees that each cook made. The competitors had to present a three course meal for a panel of comedy judges. Talk about no pressure.
Chef Lanoris' meal consisted of the following: an appetizer which was blackened chicken spring rolls. The entrée consisted of stuffed airline chicken breast with a mousseline forcemeat and asparagus, and to top it all off, for dessert he cooked a deep fried granola bar with cream cheese frosting, blue berries and raspberries, and then topped it with whipped cream and powdered sugar. All I have to say is when I get some more pocket change I will defiantly hire him as a personal chef, he's that good! Congratulations, Chef Brown.
Chef Lanoris Brown graduated from Riverside Culinary Arts where he learned from some of the best in the field. This allowed Lanoris to create his own unique style. His fusion of Soul Food, Mexican, and Asian cuisine mixed with a little bit of French keeps folks wanting more. His desire is to one day be a restaurant owner. He stated that "he wants to see people eating and enjoying his food."
Until next time and see you next week IE, much love!