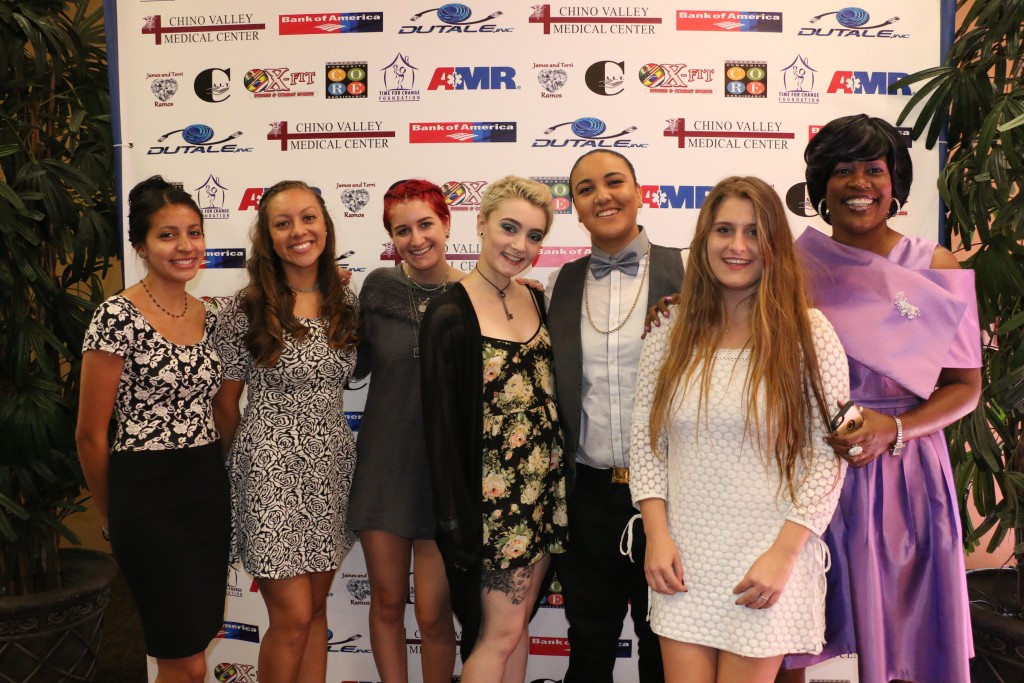 SAN BERNARDINO, CA- At a sold out event at the National Orange Show in San Bernardino on Friday night, Time for Change Foundation (TFCF) celebrated its 13th year providing quality services (including evidence based programs) to homeless women and children while honoring community members and organizations for their collaboration in those efforts at their 2015 Annual Awards Dinner "Celebrating Life's Precious Jewels".
The Dinner's emcee duties were shared by John Kunkel, former Time for Change Foundation Director of Communications and Fontana Mayor Aquanetta Warren.   Vanessa Perez, Civic Engagement Specialist provided the welcoming greeting and Senator Connie Leyva led the pledge of allegiance.  She introduced Pastor Hodari who led the invocation.
Time for Change Foundation proudly presented awards to the 2015 honorees for their outstanding community service and commitment:  Community Education Champion Award – Chancellor Bruce Baron; Humanitarian Award – The Race, Gender and Human Rights Giving Circle of the Women's Foundation of California; Community Service Award – Santa Claus, Inc.; Ramos Family Spirit of Compassion Award – Mi Cocina Restaurant in Highland; Community Health Champion Award – June Collison; Community Health Advocate Award – Dr. Dora Barilla; Dynamic Duo Award – Angela and Victor Myles; Community Development Champion Award – National CORE; Community Business Leader of the Year Award – Premier Medical Transportation
Kim Carter with special guest, Dr. Robert K. Ross, President and CEO of the California Endowment presented the 2015 Community Development Champion Award to Steve PonTell, CEO of National CORE and Dawn Davison, Warden of California Institution for Women (retired) and current Time for Change Foundation Board member presented the Humanitarian award to the Race, Gender and Human Rights Giving Circle of the Women's Foundation of California.
Dr. Nena Messina, Ph.D., a Criminologist at the UCLA Integrated Substance Abuse Programs reported her 3 year findings as Lead Evaluator for the Time for Change Foundation's Positive Futures project funded by the Substance Abuse Mental Health Services Administration (SAMSHA).  The results of her evaluation yielded a zero percent recidivism rate for the 131 clients served.  "SAMHSA often looks for successful programs to hold as the "gold standard" – [The Time for Change Foundation] Positive Futures [program] is an example that other programs can emulate," said Dr. Messina. "After years of being referred to as "Evidence Based Kim" because we are focused on doing what is best (evidence based) instead of what feels good, it feels good to be nationally recognized for our outcomes," said Kim Carter, TFCF Executive Director.  Nicole Wolfe, TFCF Director of their Center for Advocacy and Leadership Training (CALT) was "excited for the community to see the results of our evidence based training programs."
Family and friends of honorees, elected officials and supporters of Time for Change Foundation were in attendance, enjoying social hour, entertainment by Jazz saxophonist Vaughn Fahie, a viewing of the agency's new video, participating in the silent auction and much more.