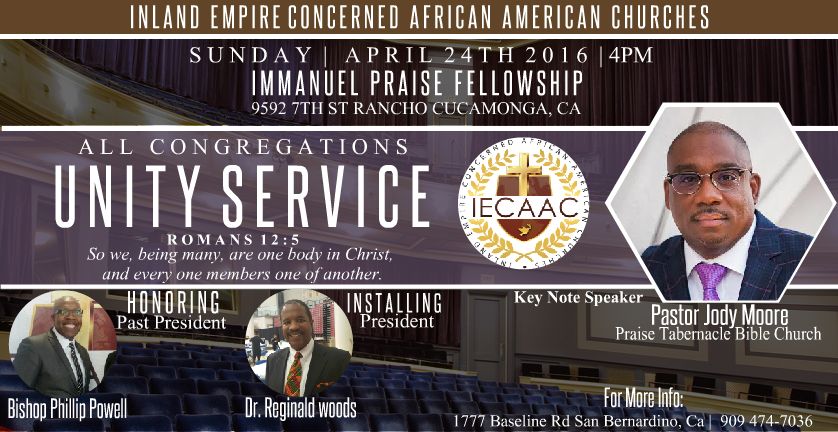 SAN BERNARDINO, CA- The IECAAC would like to invite you to our Annual Unity Service event on Sunday April 24 at 4 p.m. IECAAC Annual Unity Service will be held at Immanual Praise Fellowship at 9592 7th Street, Rancho Cucamonga California.
This year's keynote speaker is Pastor Jody Moore who is a native of California. Pastor Moore attended Texas Southern University majoring in Economics and Public Affairs. He was ordained to the Office of Pastor on December 2, 2001 and currently serves as Senior Pastor-Teacher of Praise Tabernacle Bible Church in the City of Chino. Pastor Moore earned a Master's Degree from the Talbot School of Theology and has held executive leadership roles both in ministry and in several Fortune 500 companies. Pastor Moore specializes in leadership development and organizational assessment. He is the published author of 'God's Will is Greater Than Your Plan'. Pastor Moore resides in Chino, California with his wife and three lovely daughters.
For more information please contact Dr. Cummings at (909) 545 -7042.