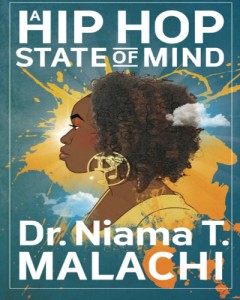 LOS ANGELES, CA- On Saturday, September 13 from 10:30 a.m. to 12:30 p.m. at South West College, Dr. Niama Malachi will be presenting a discussion on her latest book "A Hip Hop State of Mind." The discussion is a launching pad for the release of the book, which is a catalyst for social change. The release will entail a round table panel discussion that includes Kevyn Jerome Nelson, Managing Editor of Blende Magazine; Dr. Donald E. Grant Jr., Executive Director of Mindful Training Solutions, LLC; Darrel Andrews, Director of Music Partnerships and Acquisitions at OmniaMedia, Inc.; and several others.
"A Hip Hop State of Mind" is a creatively crafted manuscript that details Dr. Malachi's astonishing journey through Hip Hop. It gives readers an in depth look at the honest nature of the Hip Hop culture, while illuminating ways that Hip Hop can be used as a catalyst for positive social change.
Southwest College is located at 1600 W. Imperial Highway in Los Angeles (West Athens area).