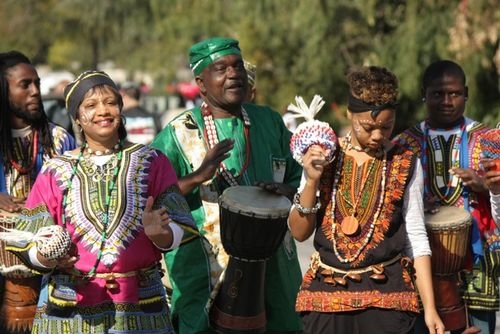 LOS ANGELES, CA– Black Arts Los Angeles (BALA), in collaboration with Kingdom Day Parade organizer and Chairman of CORE-CA Adrian Dove, will hold the sixth annual Juneteenth Festival "Celebrating 150 Years of Black Lives That Matter," on June 20 and June 21 in Leimert Park Village from 10 a.m. to 6 p.m.
The two-day celebration will highlight the history of Juneteenth, the nationally recognized holiday that commemorates the 1865 Emancipation of enslaved African Americans.      This year's Juneteenth celebrates a very special milestone. It has been exactly 150 years since the emancipation of the last formally enslaved Africans in America.
The Juneteenth Festival will bring the surrounding community together for food, entertainment, health screenings, and unique shopping experiences. Activities include chess and dominoes lessons and tournaments, a fashion line recreating the fashions between 1863 and 1868, face painting, magic experiences and more! Various retailers will be on hand to provide festival-goers the opportunity to buy the perfect graduation and/or Father's Day gift!
Guests will include The South African Consul-General, Hon. Cyril Ndaba, who will be giving remembrance of the Soweto Students Massacre. There will also be a Black Inventors and Juneteenth History tent presented by the Office of Los Angeles District 10 Council President Herb Wesson. Urban TechFair guru Jim Neusom, the man responsible for bringing wi-fi to Leimert Park, will also be honored at the festival. This year, Charles Drew Medical, UCLA, UMMA Clinic and Covered California will also provide free diabetes, blood pressure, and other health screenings in Health Ark in the Park.
The Juneteenth Festival in Leimert Park has grown to be a significant cultural festivity, garnering thousands of celebrants in previous years. The festival provides a platform for those in the community with an appreciation for arts, fashion, food and music. The festival is being sponsored by natural resources company, Freeport-McMoRan.
The celebration will take place in Leimert Park Village Vision Theater Back Lot on Degnan and 43rd Street. Admission is free to the public and open to all ages.