ONTARIO, CA- On Sunday, November 9, the ladies of Alpha Kappa Alpha Sorority, Incorporated Eta Nu Omega Chapter, Annette Weathington (President with The Inland Ivy Foundation), and Joyce Ballard held the "Timeless Elegance Through Timeless Pearlfection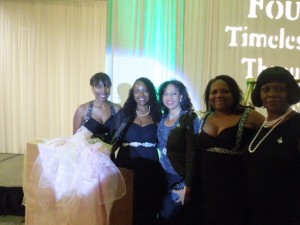 Fashion Show and Schloarship Benefit." The event was held at the newly renovated Radisson Ontario Airport Hotel.
According to Ms. Twillea Evans-Carthen, Co-Chairman of the event, "This was not your typical fashion show! Ms. Kaylin Hart, Chairman along with her mother Ms. Tiena Johnson-Hall, Co-Chairman along with the fashion show committee ensured guests were welcomed with sweets from "Sweet T's Equisite Candy and Dessert Buffet," hors d' oeuvres, door prizes and vendors to enjoy pre-holiday shopping before and after the fashion show presentation by Onlave Signature Productions and Franzine Beauty Management."
The sorority's 2014/2015 debutante candidates were on site to lend a helping hand along with students from Emerging Young Leaders (EYL) from Heritage Intermediate School.  Miss Charlisa Kelly, EYL student graced the audience with a musical selection prior to the fashion show. Also, special recognition was presented to the local chapters of The National Council of Negro Women, Option House, Incorporated, The Boys and Girls Club and United Negro College Fund.