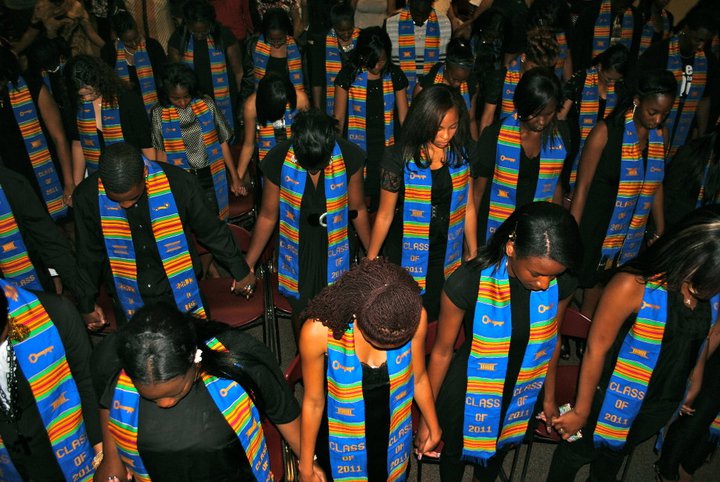 FONTANA, CA- In honor of our local youth, the Inland Empire Alliance of Black School Educators (IEABSE) presents "It Takes a Village" 2016 Scholarship Celebration, sponsored by Black Voice Foundation and New Life Christian Church. The scholarship celebration will take place on Saturday April 16, 2016 from 9 a.m. to 11:30 a.m. at the Jessie Turner Center located at 15556 Summit Avenue in Fontana. This event is open to the public with a $20 donation, but seating is limited. The Scholarship Celebration foreshadows the IEABSE annually hosted Inland Empire High School Black Graduation Recognition Ceremony (I.E. Black Grad).
The I.E. Black Grad is the largest High School Black Graduation Recognition Ceremony in Southern CA and will be held this year on May 14 at 2 p.m. on the CSU San Bernardino campus where over two thousand individuals are expected to be present. The Scholarship Celebration offers family members, educators and community members an opportunity to celebrate the accomplishments of local African American students. The scholarship donors are comprised of local organizations and businesses as well as individuals who desire to see Inland Empire students thrive in their educational aspirations.
Seniors from all districts throughout the Inland Empire were invited to apply for our "It Takes A Village" Scholarship Contest where winners will be awarded from $500 to $1000. Each application was evaluated on academic merit, community service, perseverance and leadership.
This year's special guests include 47th District Assemblymember, Cheryl Brown, and Fontana Mayor, Aquanetta Warren. There will be representatives from each donor organization and the high schools of the scholarship recipients. An anticipated highlight of the ceremony will be "The Reveal" where students will make final decisions on their college/university choice. For more information please contact IEABSE directly at ieabse@gmail.com.