By John Coleman
RIVERSIDE, CA- The Barn at the University of California Riverside was overflowing on Friday, March 13,  not with cows or corn, but with the crowd of proud parents, teachers and other supporters at the reception for the inaugural class, USA Riverside, the University Science, Technology, Engineering, and Mathematics Academy (STEM Academy) at UCR.
USA at UCR describes itself  as a campus-community collaborative that provides 6th to 9th grade scholars  a high quality, academically robust learning environment with the mission to increase STEM Academy graduates' academic skills and performance in STEM curricula, and to maximize the numbers and percentage of Academy graduates who proceed on to college and higher education levels.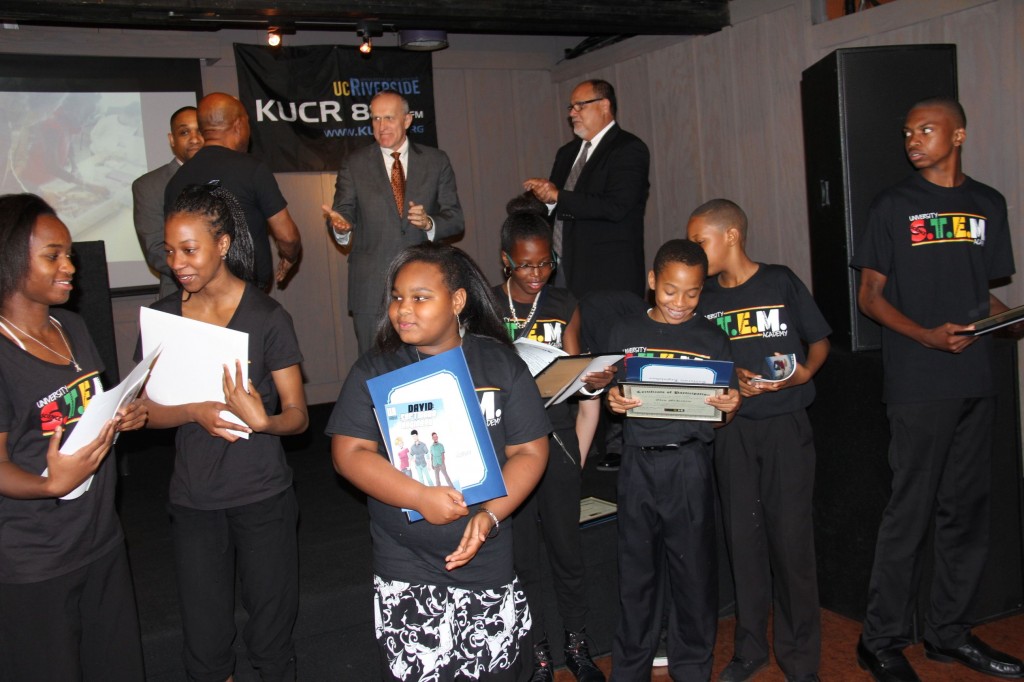 The UCR campus, obviously, is highly involved in this educational 'enterprise'.   Beginning 'a bit later', (Spring 2014), the list of  'community collaborators'  is growing, and include:   California Black Faculty and Staff Association; The Council for the Advancement of Black Engineers; The Los Angeles Council of Black Professional Engineers; The J W Vines Medical Society, (Inland Empire); J W Vines Medical Foundation; Theta Pi Sigma Alumnae Chapter, Sigma Gamma Rho Sorority, Inc; Riverside NAACP; The Group; Riverside Alumni Chapter, Kappa Alpha Psi Fraternity, Inc; the Universitystemacademy.org parentsassn; and the host of friends, supporters, and others who teach, supervise, raise funds, and provide the range of administrative, organizational maintenance, and other services that keep things working.
In her opening remarks and welcome, Carolyn B Murray, PhD, UCR Professor in Psychology and Director, University STEM Academy stated that for years she had been pressing for the restoration of the Saturday Academy Program or the initiation of a new STEM Program at UCR. Many different administrations gave several reasons why it couldn't be done, but when the concept, issues and needs were presented to Chancellor Kim A. Wilcox his response was positive, enthusiastic, activist…which led to the fact that UCR would be more than just a place where Academy classes and programs could 'meet', but the renowned academic institution in the collaboration to enhance to prospects for academic success of Academy participants.