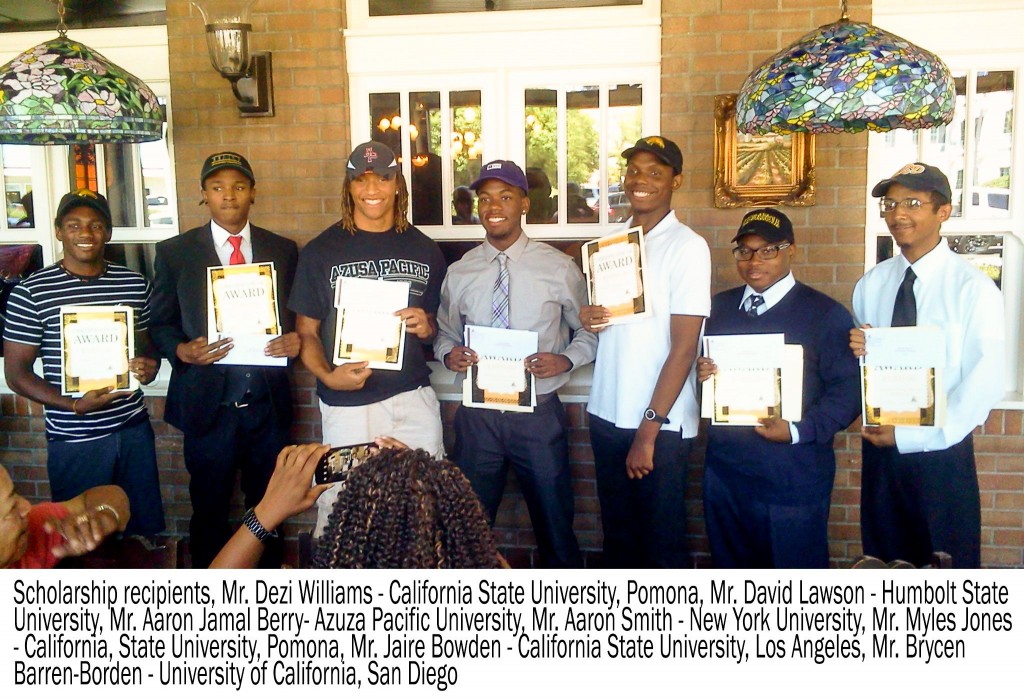 REDLANDS, CA- The Riverside Alumni Chapter of Kappa Alpha Psi Fraternity, Inc. hosted its 2015 College Signing Day event on Saturday, June 20, at the Old Spaghetti Factory in Redlands. The event acknowledged the success of the graduating high school seniors, and each was awarded the Chapter's $1,000 individual scholarship award.
Parents, friends, relatives, mentors and other supporters applauded the recent graduates and wished them well. There were 7 high school graduates who received scholarships to 6 different colleges and universities.  Two of the graduates, Mr. Myles Jones and Mr. Dezi Williams elected to attend California State University, Pomona.  The remaining graduates will attend as follows:
Mr. Aaron Jamel Berry –Azusa Pacific University; Mr. Brycen Barron-Borden – University of California San Diego; Mr. Jaire Bowen – California State University, Los Angeles; Mr. David Lawson – Humboldt State University and Mr. Aaron Smith – New York University.
"We are so proud of our graduates for their poise and the positive ideals we see in them" said Chapter Polemarch, Demarius Carmichael.
Fifty-year member Phillip Murray served as the master of ceremonies. The program was a huge success. The young men were encouraged to come back and share their college experiences with the next Signing Day class.