King Day in South L.A.: A Photo Essay
(EMPIRE NEWS NETWORK (ENN)- Walking down Western Avenue fresh off the eastbound expo line, I could instantly feel the energy. I hadn't even made it halfway to Martin Luther King Jr. Boulevard and I was already enthralled by the atmosphere.
The joy. The pride. The love.
As an Oregon native, I had experienced MLK Day in Portland, but I had never celebrated King Day in South Los Angeles.
Only six months into my time as a Los Angeles transplant, the 2016 Kingdom Day Parade was my first time participating in the celebration.
The Los Angeles Community Coalition marches with signs honoring the 1968 Memphis Sanitization Workers Strike. The Community Coalition was founded in 1989, with the primary missions: transforming schools, strengthening families and building a thriving community in South Los Angeles.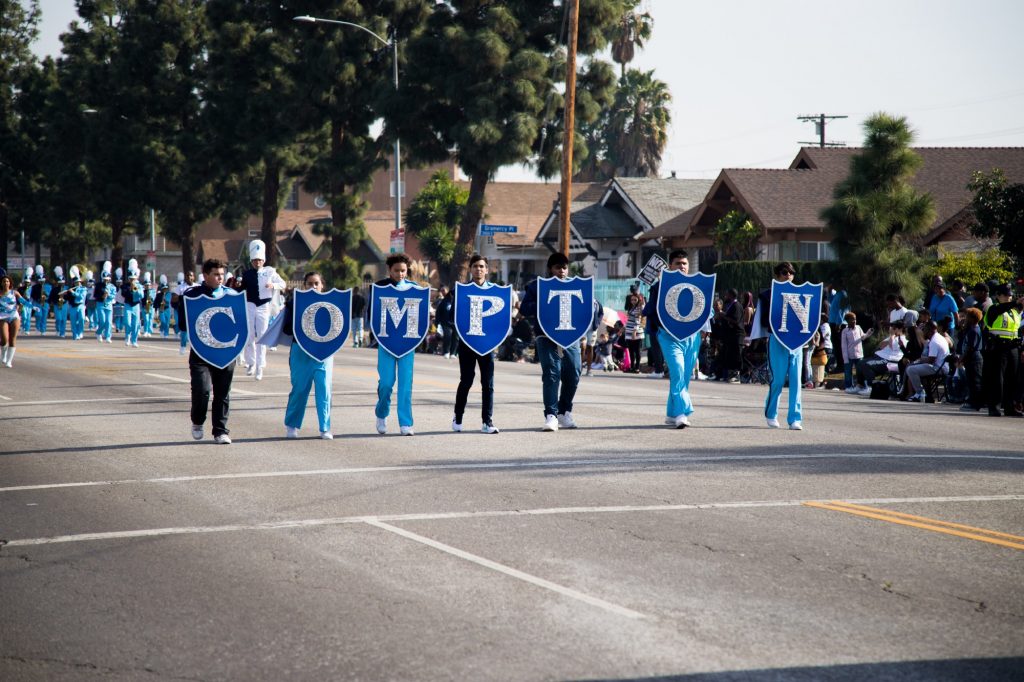 In Portland, MLK day is another day off from work or a company-led volunteer day. Sure, people understand the historical significance of the national holiday, but it's not the same.
I had never seen a celebration like this.
I had never heard every person who walked past me say, 'Happy King Day'.
Seeing the thousands of people of all different ethnicities celebrating the life of a man who made many of their lives possible; Seeing the joy it brought them and the joy it made them want to share, filled me with a sense of pride I had sadly never known.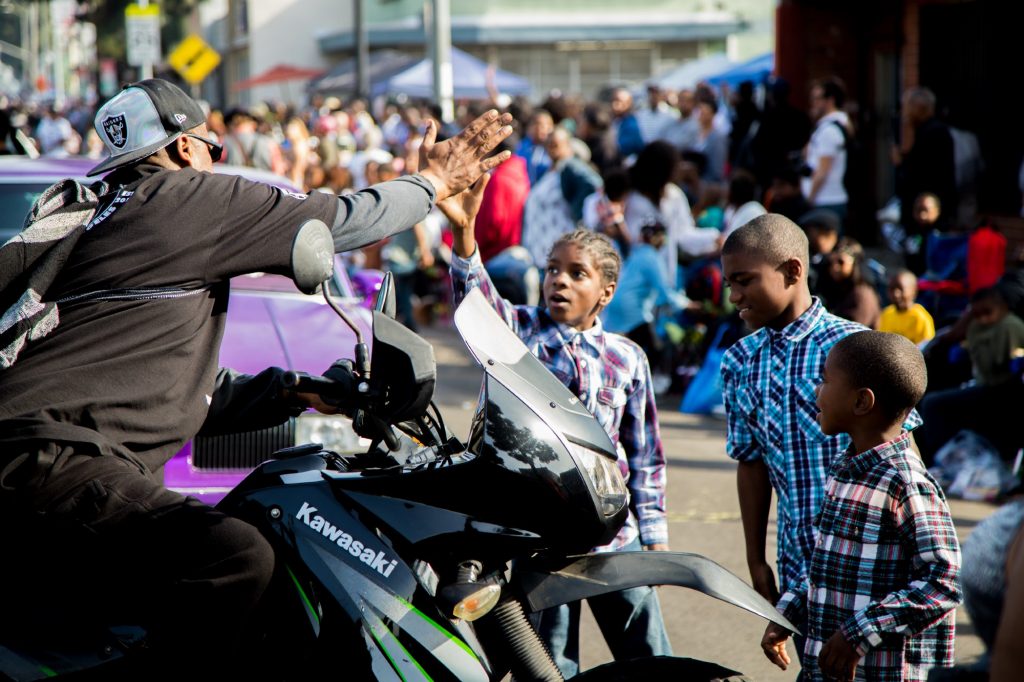 It's been a year since that first, magical celebration. This year's parade was much like last year's?—?the perfect blend of the love that defined Martin Luther King Jr. and the people that define South Central Los Angeles.
Kamala Harris was the parade's grand marshal, and the theme was the famed former First Lady Michelle Obama quote, "When they go low, we go high."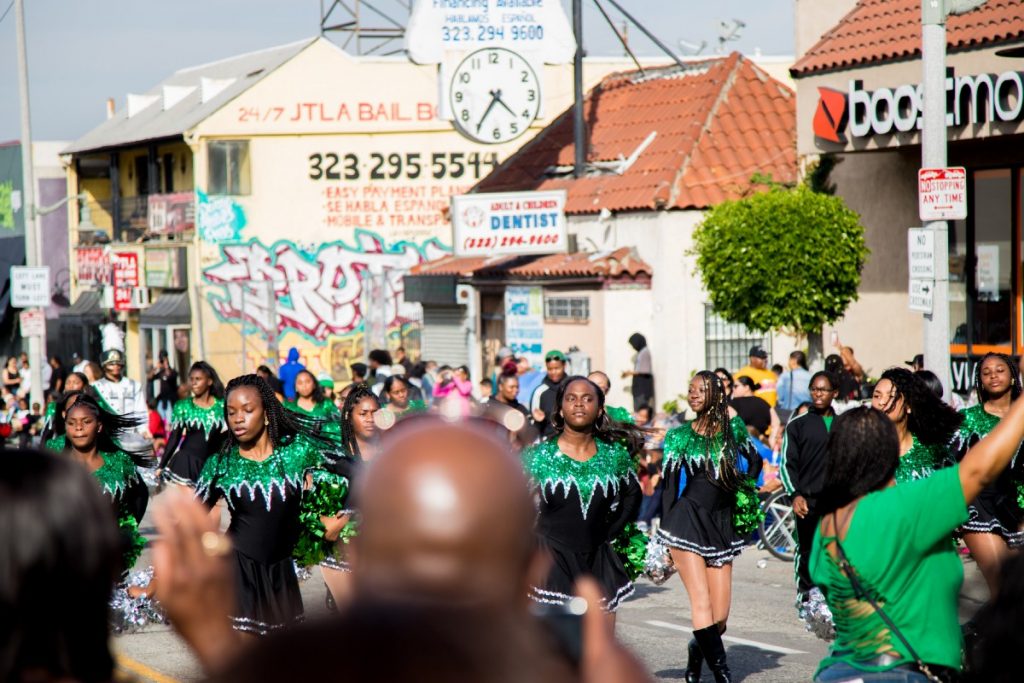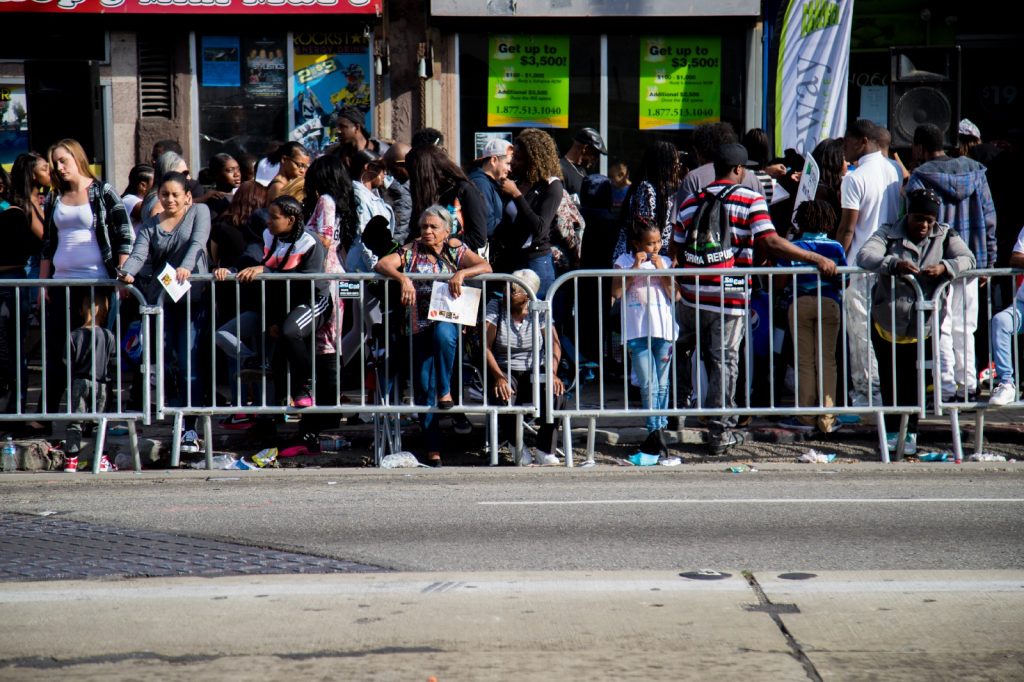 I wanted to capture the day so others could experience the feeling for themselves. So, I documented the parade with a photo essay and interviewed several community members in the process (shown below).
I also wanted to learn more about the history of how it all got started, so I got in touch with Adrian Dove, President of the Kingdom Day Parade and Congress Of Racial Equality (CORE).
Happy King Day.
Each year, citizens and organizations representing a vast array of ethnicities and social justice causes honor Dr. King through his legacy of peaceful protest.
The History:
It's been thirty-eight years since a retired banker, Larry E. Grant, decided to organize a neighborhood march honoring Dr. Martin Luther King Jr. The first parade was held in San Diego, California.
In 1985, the Kingdom Day Parade moved to the South Central neighborhood of Los Angeles. And today, it is the largest and oldest Martin Luther King Jr. Day celebration in the nation.
The current Kingdom Day Parade and CORE President, Adrian Dove, 84, first became involved with the parade when he was the Regional Director at the U.S. Census Bureau.
"I used outreach money from the Census to help finance the parade, so that's how I first got involved." he said. "Then, five years later, it moved to L.A., and every year it got bigger. About thirteen years ago, the parade lost its funding. At the time, I was President and Chairman of CORE…we made the shift and had all the finances run through CORE, and that's all that I was asked to do."
For many high school marching bands in Los Angeles, the Kingdom Day Parade is the most anticipated performance of the year. It is the premiere opportunity to earn community bragging rights.
But, after filing taxes for the parade, Dove noticed the organization was still in financial turmoil. He then spent the next six years gathering support from community organizations and businesses to keep the parade alive. Each year, the number of parade floats, volunteers, and crowd members increased.
"[Larry Grant] died just a couple months before the parade in 2012. I was at Larry's funeral and I said, 'This man spent a lifetime, thirty years, of doing this parade, and it will not be lost. I personally promise to see to it that this parade shall go on'. And then I said to myself, 'Did I say that? How am I going to do that?'"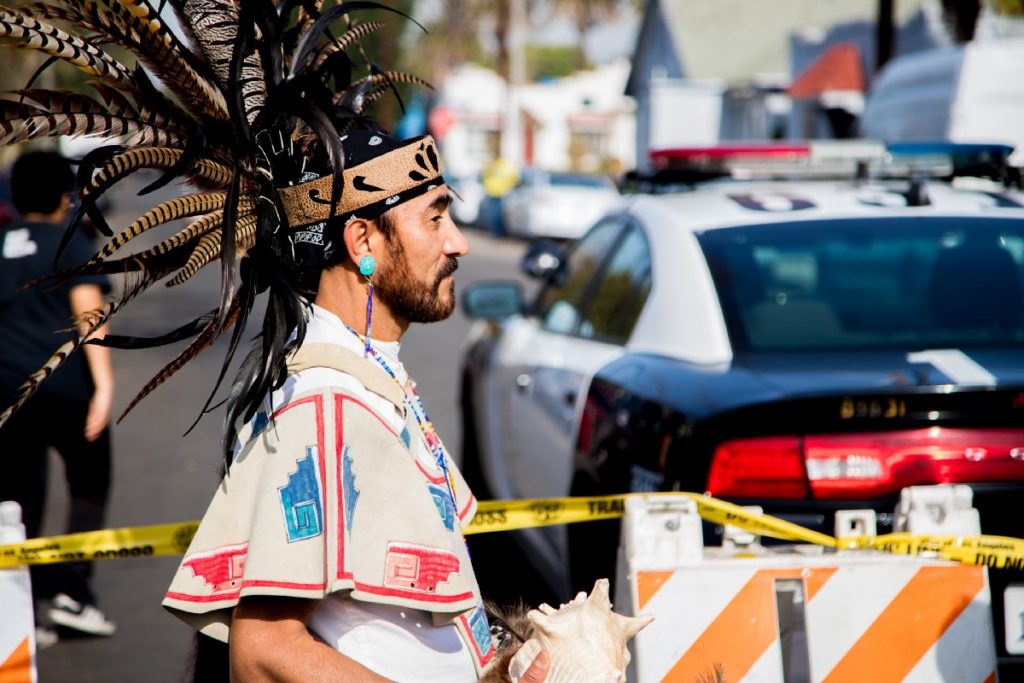 However, Dove's commitment to the parade was not only fueled by his love and admiration for Grant.
As a young man in the 1960s, Dove left the comfort of his job and home in Los Angeles to personally work with Dr. King as a part of the voter registration movement in Alabama.
Inspired after reading Dr. King's book, Strength to Love, Dove attended a sermon led by Dr. King and was introduced to him afterwards by the woman he sat next to in the church.
In their conversation, Dr. King explained the need for college educated individuals to join the movement and help with registering African-Americans to vote in the South.
Two weeks later, Dove was living at the freedom house and working in the field.
"As great a man as he was, and I was just a young kid, he took the time to sit down and talk to me and treat me as if I was his equal. So, I always said, I was born at the right time… He put me out in the fields, there were people threatening to shoot us, and we were only getting thirty-two dollars a week, and to this day, I have to say, it's the best job I ever had." He said. "Nothing matches up to the experience of being able to go in and chat with him."
Dove's admiration for Dr. King's legacy of love was evident in just about everything I heard him say. There's an embracing warmth in the kindness of his voice, and a resounding joy in his laugh?—?the kind with the obvious intent to be spread. Every response to one of my questions was genuine and used as a teaching moment.
He told me how he always agreed with Stevie Wonder, who was instrumental in the creation of the parade and served as the first grand marshal. Wonder spoke in support of the King holiday saying, "There needs to be a holiday purely dedicated to love." Dove then said, "That's what we're doing. [We're doing] our best to make sure it stays dedicated to that."
After years of persistent recruitment efforts, and seeking the advice of Los Angeles neighbor, the Rose Parade, the Kingdom Day Parade began to thrive year-after-year.
And Dove is far from the only one who embraces this holiday of love.
Today, in South Los Angeles, King Day is one of the most anticipated days of the year, and the parade is the main event.
"The biggest thing I like about the parade, is the fact that I'm working on something where people call and say, 'I sure had a good time. Everybody was so happy,' and to me that's what makes it worth doing. You got a program and you just make people happy… I ride [in the parade] every year, and riding down the streets people are just smiling, waving?—?whole families. It's a family thing, everyone you see is saying, 'Happy King Day', 'Happy Kingdom Day'." Dove said.
"That's the neighborhood where we started in, South central, and that's the neighborhood we intend to stay. We're not gonna take it downtown or to the beach, we're gonna stay right in the neighborhood and do it for the community."
Plans for the 2019 Kingdom Day Parade are already in the works. Dove told me they recently selected the grand marshal for next year, and will reveal the special guest on a date closer to the parade.
But, that's not all Dove and CORE have in mind for the South Los Angeles community. The organization is also hoping to begin a Juneteenth March as early as June 19 of this year. Dove spoke of the importance of Juneteenth as a holiday, and maintaining the mindset of, "No one is free until we're all free."
We talked about the Women's March, which took place earlier that day. "We wanna do something like that," he said.
"In January, we celebrate. In June, we march."
Marchers in the Community Coalition proudly carry a Haitian flag. The white ribbon on the flag of Haiti bears the cultural motto, "L'Union Fait La Force", which translates to "Unity Makes Strength."
Reuben Belisle?—?"I live right in this area, a couple blocks from here. For the last twenty years, we've been coming to the parade just to see everybody come together for Martin Luther King. He did a lot for us to be here right now, and we appreciate what he did… We from Belize (pointing to friends and family behind the fence). This is the Belize community. What [King] meant to me when we was coming up, he was the one who gave us the right to be where we are right now. He fought for us. He died for us. I love being here… What's going on with the politics right now. We gotta put up with it. But, it's going to be over pretty soon?—?once Donald Trump gets outta the office."
Trinisha Stewart (third from right), 41, "We watch it here every year. I live in Riverside and come here because my family owns the property. So, we're out here for the annual King Day Parade, and everyone has come together?—?all the different cultures. You see so much diversity, you see togetherness. Everyone is out here just having an awesome time, just celebrating life, and celebrating the fact that we can all get along and exist in the same America… I've been coming since the very first one. I actually do not [remember it] because I was a small child. But, at this point, they're just getting bigger and better. A lot of people are joining, it's just really great. [The parade] means togetherness. Everyone celebrating their rights, everyone being able to celebrate, without anyone having issues with that. I'm glad that everyone's out, we're all just bonding, and it's a great day."
Glenn?—?"I've been coming here, every year since it started. My sister stays right here. And this is my nephew. I just love being with all the people and enjoying the day on a positive note. Everybody happy. It's a happy day, (pointing to dancers) see what I mean? I'm living here today to see what he fought for years ago?—?and it's happening. Slowly, but surely… [I'm] very proud to be here."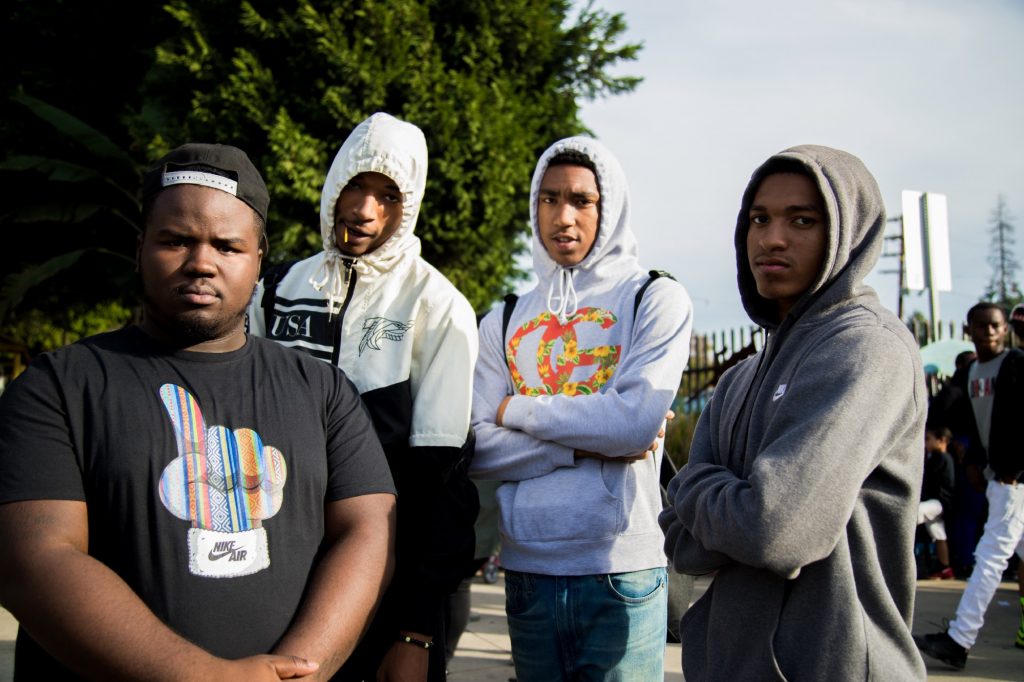 (Left to right) DeAndre Allen, 20, Christopher Daniels, 20, Marcel Drinker, 19, Maalik Stokes, 16.

Christopher?—?"Martin Luther King, he was a really good man. I'm glad he helped out with this country. We wouldn't be like this if it wasn't for him. Happy birthday, King!"

DeAndre?—?"He did a lot of things for us colored people. He helped us not be segregated and come together."

Maalik?—?"Man, Martin Luther King was the first man to really fight for our rights, man. He wasn't the only one but he was the first one to really do this! You understand? Martin Luther king was the man. You understand? He gonna live on forever. This not the last MLK parade, we got a million more."

Marcel?—?"What he did is gonna live on through centuries. It's a legacy. This not the last parade ever. Without him we wouldn't be here today."

DeAndre?—?"Happy birthday to Martin Luther King. Thank you."
Joe Epps and Danette Epps

Danette?—?"[We've been coming] over ten years or better, or even longer. Just getting together and seeing everyone come together in unity, [I'm] loving it. Since I've been coming, it's been very peaceful.

Joe?—?Happy Martin Luther King's birthday, you know? Like I said, we been coming down here for the last ten years to celebrate the legacy. And I request work off every year, just for this event."

Danette?—?[The day represents] mainly how far we have come and how he set the mark for us to have the freedom and all that we have today. And how everybody really focusing on trying to be equal. You know? Cause that's what he was about. You know? It wasn't about that color, this color. He wanted everyone to just love and that's what it is when we come down here to the Martin Luther King day."
Andre Williams, 56.
Andre?—?"My mother was living here for five years, so we've been sitting here [during the parade] for five years. I was out of town for a lot years, I moved around. I was in the marines. Then, I went out on my own, living in different places…I've been back home for seven years.

I love the parade. It brings the community together. A lot of people see old friends and stuff. It's about MLK, his legacy. Everyone getting together in peace and harmony."
Ayesha?—?"[We've been coming] probably since elementary. Seriously, twenty-plus years. Since we were kids. I just love seeing everybody together. That really puts a smile on my face. Since this is all about peace and stuff, this a moment where everybody is pretty much all on the same page, you feel me? So, it's real festive. And you feel like 'that's my sister, that's my brother, that's my cousin.' You know? Like It's a family, man. I love it."

LuLu?—?"It's the unity. Cause that's what King was about. So It displays it. Not just between like the black culture. But, between everybody. That's why there's everybody in the parade. All different ethnicities. Just the unity of everybody being together for a peaceful event?—?for a man that did a lot for us. I feel like it's very important that we keep what he's done alive…I feel like we have to remember what he stood for, the reasons for it and we have to do the same thing. Cause he lit the torch and passed it and we gotta keep carrying it. Or we'll let it die and we'll revert back to before his days."

Ayesha?—?"I think the main thing is keeping the legacy alive so hopefully maybe we can avoid some of the injustices going on."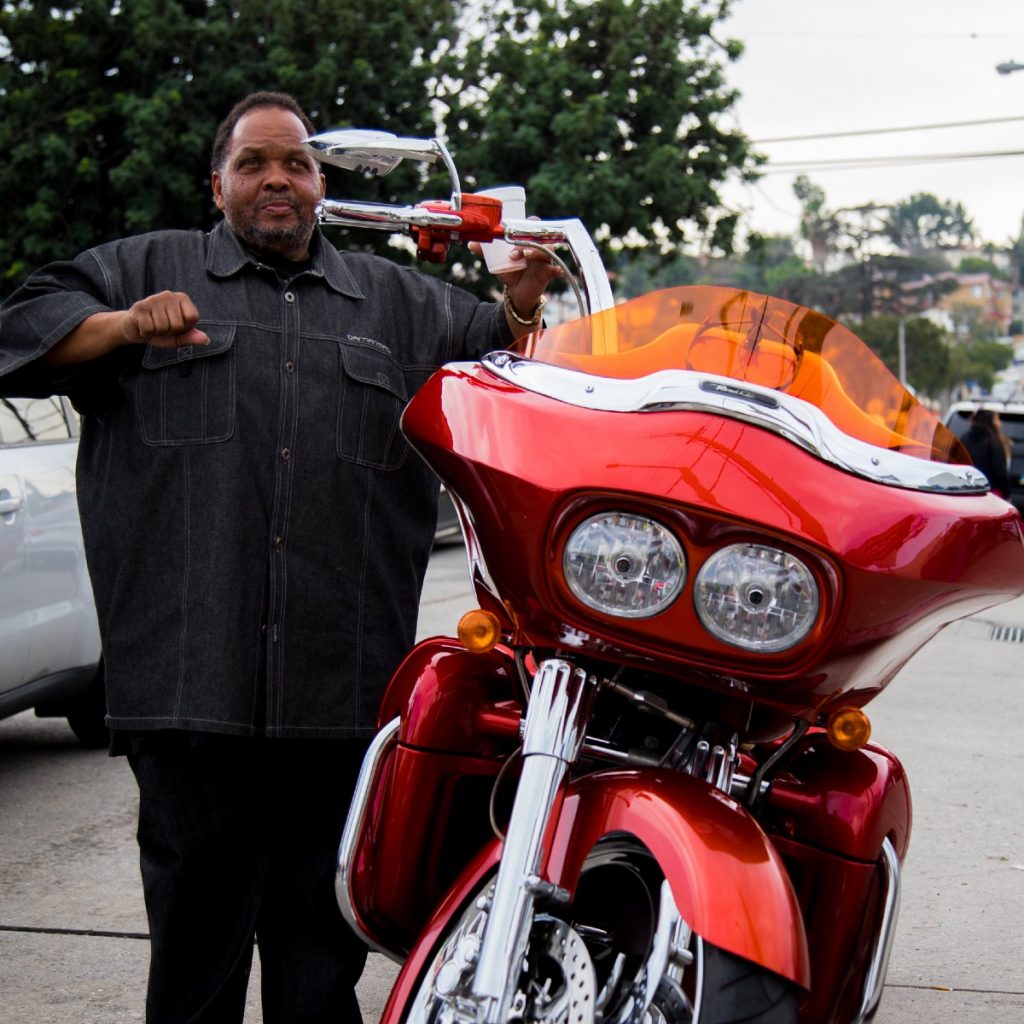 Heavy?—?They call me 'Heavy'. I've been coming at least 'bout seven–eight years. My favorite part of being out here is being amongst love. You understand what I'm sayin'? Love is everything. God is everything. Know what I'm sayin'? You out here with love. Everybody, all nationalities are here. That's what the world is. It's love. People trying to divide, but love conquers all.

Being sixty years old, I see [King's] words were strong, but ain't too much has changed from that [in America]. But a change is gonna come. You know what I'm saying? A change is gonna come. We all gonna unite."