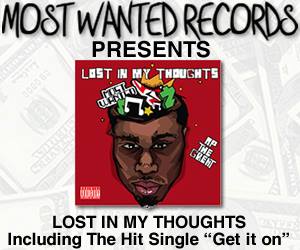 What it do! I'm coming ATCHA with another talented artist alert. I mean the IE is just saturated with them. This week I want to show love to Daniel Jackson who is known as "AP the Great." This rapper/songwriter wears many hats. Currently, he is signed to the record label Most Wanted Records, an independent label based out of San Bernardino.
AP the Great has been rapping since the age 15, and has been inspired by God, family, and a never-ending hunger for greatness. This artist is making his way in the industry.  Also having an eye for fashion, AP is the CEO of BUYDJdesigns, an upcoming new fashion line. His current EP project, "Lost in my Thoughts", can be found on iTunes and on the group mixtape "World domination", which can be found on MostWantedRecords.com.
AP is working on a new album which is set to release in June of this year. It will feature his first single set to be released in February of this year. Don't sleep on the artist, AP The Great! I think his music is GREAT! Follow him on Instagram @mostwantedap and Twitter @mostwantedap. Until next week and please support Indie Music! L's Up!