By Gloria J. Ingram
POMONA, CA- Heart and Soul Line Dance celebrated its' 12th Anniversary on Saturday, March 5, at the Palomares Community Center in Pomona with a Mardi Gras theme. Harriette Coggs Stuckey, Founder/Director of the line dance organization, welcomed new and experienced line dancers to the annual event, always held on the first Saturday in March.
The festive affair was sold out well in advance. An excited crowd started gathering at the entrance around 12 noon, an hour before the doors opened for admission. Many line dancers were dressed in green, purple, and/or gold…Mardi Gras colors, as well as costumes, including several ladies wearing a tri-colored tutu! Approximately 200 enthusiastic line dancers seemed to always rush to the dance floor as songs were played for popular and standard line dances. A King and Queen presided over the event. King Ulric Jones and his Queen, Jean Woods wore royal regali, both wearing a crown, he in a royal robe and sash, she wearing a sash, beads and gold fringed attire led the diverse crowd of revelers in a customary "Second Line." The room seemed to reach a higher level of brightness because of so many happy, smiling faces. And, the floor seemed to reverberate as partygoers energetically stepped, pranced, and danced around, up and down the dance floor to lively music.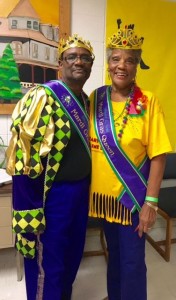 One of the many highlights enjoyed by all was a delicious soul food meal of BBQ chicken, red beans and rice, collard greens, and peach cobbler prepared by Executive Chef Terry Cleveland. Other highlights included, awarding gift cards as door prizes and a generous donation to the American Heart Association from the proceeds of a Money Raffle.
Heart and Soul Line Dance class members from Beaumont, Eastvale, Fontana, Menifee, Pomona, Rialto, Riverside, San Bernardino, and Walnut were well represented. The Line Dance Family at-large was also well represented by members of other line dance companies i.e. Jus Dancin, Marva Black and her L.A. Country Strutters, LA and Natalie Kelley, K- Stepmobile, L A. Others came from the Bay Area i.e. Novella Peterson, Shirley Jefferson, and Yvonne Carnelus. Congratulations to Harriette Coggs Stuckey for another stellar celebration of bringing line dance to so many throughout the Inland Empire and the San Gabriel Valley.