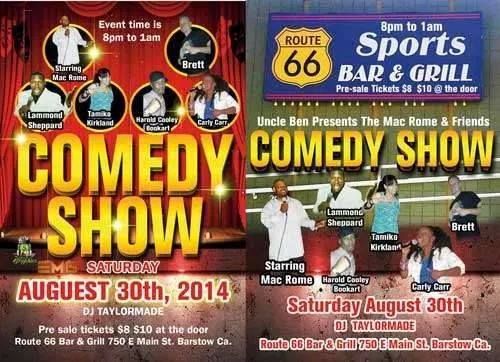 Hey, Hey, Hey in my Dwayne Nelson voice! It's me again, here to tell ya' What It Do!Laughter is what it do! This Saturday, August 30 at the Sports Bar and Grill (25597 Main Street) in Barstow. I need you to come out and laugh out loud with upcoming Comedian Mac Rome and a host other hilarious comedians from all over. Barstow is doing it BIG yawl!
Founder and owner of the original "Wing It" restaurant in San Bernardino and owner of "Artistically Clean Cleaning Services", Bennie Fredrick, along with Comedian Mac Rome have teamed up to bring laughter to the community. Unlike anger or sadness, comedy can be an escape from reality even if it's for a short moment. In my opinion, laughter soothes the SOUL. It allows you to release and let go of the day to day hustle and bustle.
I'm so thankful for comedians such as Red Fox, Richard Prior, Rodney Dangerfield, George Lopez, Bill Cosby, Moms Mabley, Robin Williams, Whoopi Goldburg, and George Burns. That's only a drop in the comedy bucket of GREATS. So with that being said, I hope you can make it to Barstow this Saturday. Remember a frown upside down turns into a smile. Have a blessed and safe holiday.