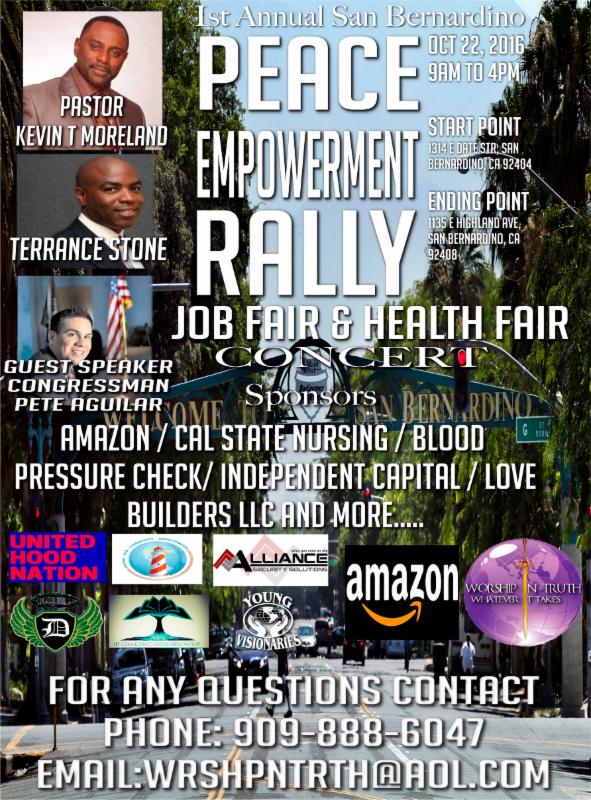 SAN BERNARDINO, CA-One of the largest marches and rallies in the history of San Bernardino will be led by faith-based, political, business and community leaders on October 22, 2016 in the wake of an unprecedented year of crime and an alarming increase in homicides.
Thousands will march from Ecclesia Christian Fellowship church, 1314 East Date Street, San Bernardino CA 92404, to Perris Hill Park, 1135 East Highland Avenue, San Bernardino CA 92408 in a 2.5 mile commitment that will bring attention to the need for jobs, education and healing.
After the 2015 terror attacks that left 14 San Bernardino residents dead and more than 51 residents killed this year alone, the city has had enough!
The march dubbed, the 1st annual Peace Empowerment Rally, spearheaded by host pastor Kevin Moreland, Worship in Truth Church of God and Christ, will focus on three things: the local economy, peace in local neighborhoods and unity amongst all people, religions and communities.
A job and health fair will be held at the event to provide hundreds of jobs from employers such as Amazon. The fair will also include free health screening, blood pressure and HIV testing.
Speakers will include, Congressman Pete Aguilar, 31st District of California, Supervisor Josie Gonzales, Pastor Joshua Beckley, Pastor Kevin Moreland, Terrance Stone Young Visionaries Youth Leadership Academy, mothers and fathers of homicide victims from Los Angeles, Riverside and San Bernardino, Law Enforcement, and others.