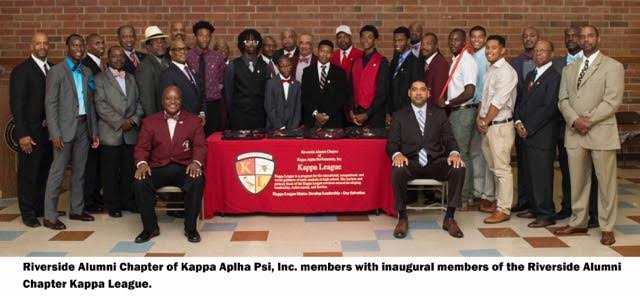 RIVERSIDE, CA- The Riverside Alumni Chapter (RAC) of Kappa Alpha Psi Fraternity launched its Kappa League youth mentoring program on Saturday, September 26.  The leadership development program, although new for the Riverside Chapter, was originally founded in 1969 at Locke High School by the Los Angeles Alumni Chapter.
"This program is an important part of our fraternity's mission," says Martez Nix, Director of the RAC Kappa League.  "Young men need guidance and direction as they face the challenges of adolescence."
During the orientation, Polemarch Demarius Carmichael and retired Navy Admiral Ed Moore provided an overview of the program curriculum and upcoming events, while tying them to the five phases of educational, occupational and social development. These include Self Identity, training in the areas of academics and career preparation, competition in sports, career advancement and politics, social endeavors, which include religion, the arts, communication and etiquette, and health education.
The program is open to male students in grades 9 through 12, with a minimum grade point average of 2.5.  For more information contact Martez Nix at MartezNix@gmail.com.