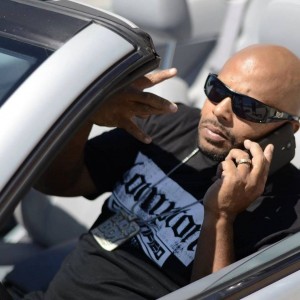 What up Inland Empire! What it do with the LUE this week, is the WINGS! In this industry I get a chance to meet many talented independent artists. A lot of them have similar stories and similar goals. I'd like to introduce the man himself, Justified Smith.
Justified Smith is one of the most prolific writers of our time. He has recorded and printed more than 6 independent albums over the last nine years and has reportedly moved thousands of units in the music game. Over his career he's shared tracks with West Coast veterans E-40, Kokane, Spice 1, Bad Azz, Above the Law, and many other independent artists. Respected mostly for his passion to hustle and the heart to sell his own music out of the trunk, Justified is definitely an underground icon.
This talented artist is a jack of all trades. Not only is Mr. Smith a talented rap artist but a business owner, show host of "CALI LIVE", CEO of "Justified" and "G.I.2.G Entertainment", but most of all a loving and caring single father of two beautiful little girls and one handsome son. He goes hard for his family on a daily basis to ensure their provided for. You can always catch Mr. Smith doing good work within his community and beyond. His organization M.O.F.I.A. which stands for "Men Of Faith In Action", puts on several events throughout the year blessing the folks with needed household products and materials. I can respect that all day long!
Follow the wings and please support Justified Smith. His music is available everywhere digital downloads are sold. For bookings please contact email Justfiedmuisc@net.com. Until next time l'zzz! Justified's latest song titles include "Man On A Mission" and "Follow The Wings" featuring Suga Free Message.