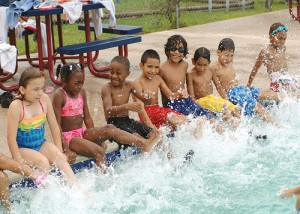 SAN BERNARDINO, CA- The SUMMER SWIMFEST: OPERATION SPLASH KICKOFF event is scheduled for Friday, June 6 from 12 p.m. to 5:30 p.m. at the Jerry Lewis Family Swim Center in Perris Hill Park, 831 E. Highland Avenue in San Bernardino. The event will host two free swim sessions (children 7 years of age or younger each must be accompanied by an adult) from 12 p.m. to 2:30 p.m. and 3 p.m. to 5:30 p.m. at a first come, first serve basis with games, activities, and a resource fair in partnership with First 5 San Bernardino and Safe Kids Inland Empire. The Nutrition Education Obesity Prevention Program in San Bernardino County will provide healthy hydration tips for the summer as part of the Rethink Your Drink campaign. Swim apparel is required for pool admittance. Water safety is a key message to the event. To register as a vendor, contact LuCretia Dowdy at (909) 386-7706 for more information.
"Drowning is one of the leading causes of death for children under 5 in California," said Karen Scott, Executive Director of First 5 San Bernardino.

"Children will be attracted to recreational water activities or collections of water when we aren't looking. We want families to actively supervise their children, install barriers around pools or collections of water, and encourage them to take classes in swimming and CPR to be prepared."
The Swim Center will also be offering "learn-to-swim" lessons for youth ages three to 17 years old. These lessons will begin June 2, but registration is encouraged now at the Parks, Recreation and Community Services Department (PRCSD) Main Office located at 201 North E Street, Suite 301, 3rd Floor (corner of 2nd & E). Open recreational swim is also provided at the Hernandez, Mill, and Nunez Pools beginning June 2, with open swim afternoon sessions Mondays through Saturdays. Low-income residents are encouraged to attend free learn-to-swim classes and apply for free family swim passes at the Hernandez and Mill Pools. Scholarship applications (made possible through the Kaiser Permanente Southern California grant donation) are available at these locations or through the PRCSD Main Office.