By Naomi K. Bonman
Seattle, Washington native Turner Yarbrough, more commonly known as "Taco", is on the brink of becoming a well-known celebrity nationwide hair stylist. As a child, Taco spent countless Saturdays in the salon with his mother as she received her weekly style. Though he and his brother hated being dragged there for hours on end, a spark for an interest in hair styling emerged in him.
Upon high school graduation, the charismatic Cancer enrolled in cosmetology courses at Seattle Central Community College and later transferred to Gene Juarez where he received his license in 2001. From there he opened his first salon, Reign Concept Salon, at the tender age of 19 where he was able to establish a loyal clientele.
Throughout the early stages of his career, Yarbrough continued to learn more to perfect his craft. He has received education from well known trainers which include Paul Mitchell, So. Cap, CHI, Unite and many more.
Not only is Taco an inspiration to his hair clients, but he is also an example for those struggling with weight loss. He has lost over 126 pounds and is now a certified personal trainer. In a recent interview with the rising stylist and fitness guru, he discussed his future goals, motivations and most memorable career highlights.
Naomi: What inspired you to get into the hair industry?
Taco: My mother. She used to drag me to the hair salon and I hated it! [laughs] My cousin LaShawn was also a braider when we were growing up and she [subconsciously] kind of helped to push me into this.
Naomi: What makes you stand out from other stylists? What makes you unique?
Taco: My character. I'm just a funny guy. I'm a big personality. I know that there are a lot of hair stylists that have big personalities, nut I'm just different. I love to have fun and to make sure that everyone is okay by catering to the atmosphere. [I like to make sure that] that everything flows cohesively.
I think what also separates me is that I'm just crazy, passionate. I can only separate myself from the things that within myself meaning that I'm not separate from people, but that my own challenge is myself.
Naomi: You mentioned that your personality shines on set. Is there a reality show in the works?
Taco: There are talks of it. We're actually putting some things together. I think it would be hilarious [laughs]. I'm just Taco, there's no explanation for it. I'm just a crazy guy who's always singing and doing something different. If someone is shy, I'm that kind of guy that helps them get out of themselves so that they can have an awesome experience.
Naomi: How did you come with the name Taco? It's a very interesting and unique nickname?
Taco: My name came from my Grandma, In larger families, you tend to get stuck with various nick names that follow you for life". [laughs].
Naomi: [laughs] Interesting. So who are some of your top celebrity clients?
Taco: I just wrapped up a photo shoot with Colyesia Chestnut from MTV'S 'Are You the One?' My main client that I love so much is Bad Medina, which is Floyd Mayweather's massage therapist. One of my long time clients is Tori Lucas who just married Jamal Crawford. I just had the opportunity to cut Trina's hair. She was really sweet, warm and welcoming.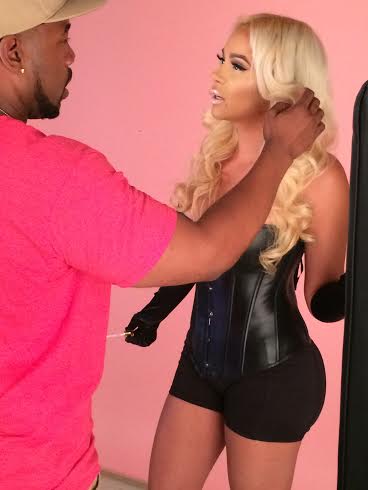 I've also done several events such as a Women Standing Tall calendar which featured Shonie O'Neal and the rest of the basketball wives before they were on the show. It was cool to be a part of that before they went big.
Naomi: How did you get your start into doing hair for celebrities?
Taco: I'm a firm believer in what's for me is for me. It just comes. I' ve never advertised or put myself in the newspaper. I let my clients spread the word which say's a lot on what people believe and see in my skills which I' ve seen as a blessing to have come so far off just recommendations.
Naomi: How do you make the every day, average client feel like a celebrity?
Taco: My salon in Seattle is called Reign Concept Salon where I work with some of the most amazing girls, and there we create an experience. I'm always singing and serenading them (clients). I make them feel like celebrities because with every single client, no matter how tired I am, I'm going to give them that attention. To me, they are celebrities because they patronize me, and they feel a part of the process of me coming to new horizons [in my career].
Naomi: How did you come with the name Reign Concept Salon?
Taco: I am a Christian, and my whole belief system is to always know and to allow God to reign in your life. When I think of reign, I think of God. It's my reminder to never puff myself up and to always be humble, and that He reigns over all.
Naomi: What has been your most memorable highlight in your hair career thus far?
Taco: I had a woman, just an ordinary woman, that came in and she thought her hair was damaged.  You could tell she had low esteem and that she was going through some things in her life. When I did her hair, I did it with so much love and took my time to not only love on her hair but to love on her. When I finished and turned her around to the mirror, the level of emotion that she expressed made her feel as if she was brand new, and it healed her. For me that was my gift to her. I didn't make her pay. Sometimes it's the little things that have the biggest affect on your life.
Naomi: Going into the fitness side of things, what kept you motivated to keep pushing towards your weight loss goal?
Taco: I was always a sort of overweight kid. I battled with a lot of low self-esteem. I definitely covered that up through my personality. It's been three years since I lost over 126 pounds. I used to be 358 pounds, and was cast for The Biggest Loser twice, but that didn't come through. They always chose the next person over me.
I have a wife and 5-year-old daughter, and needed to live for them. In this career you have to be healthy. So, I just said ' I'm tired. I can't wait for The Biggest Loser to do it for me. I have to do this'. I just started. My inspiration is myself. I have to conquer me, and I want to do me as a physique body builder one day.
Naomi: Nice! So with body building being a fitness goal, what are some of your others?
Taco: That's the next fitness goal, to compete as a Physique Body builder. I' ve been blessed to pick up an international sponsorship with Pro Supps. They are absolutely amazing and they took me on because I started with them in the beginning of my weight loss journey and I was loyal to them. They give me so much love and support and I really appreciate that. I also want to lose another 35 pounds to aid me in my "road to the stage" to compete.
Naomi: What changes did you make in your diet?
Taco: Whew, so many changes! Your diet has to be on point. I learned healthy eating habits from pro body builder Alden Gamet who coached me in losing my first 100 pounds. I went from eating McDonalds three times a day to learning how to prep meals, weigh my food and portion control.
Naomi: What advice do you for those who struggle with weight loss and lose that focus to get to their goal, and that try different regiments that don't work out for them?
Taco: My advice is to just go. The first step is to just get there. In the beginning you don't want to do it because your body is used to whatever current routine that it is in. Your mind changes as you begin to change. Also, connect with people that will encourage you and keep nothing but positivity around you. Anything that is new is going to be difficult; the key is to just go. If you do fall back, don't stay there. Get back up and keep moving.
Naomi: What are your overall personal goals that you want to achieve in life?
Taco: My overall goal is for the world to know me and  to not only be successful, but highly respected and sought after  globally for hair and health.
The sky is the limit for me, and I'm very excited about my publicist. I absolutely love her. Trea Davenport and Trea Day Management are just amazing. I have a lot of support around me, and at the end of the day, I'm just ready to go and welcome success.
To keep up with Taco's career endeavors, follow him on Instagram @TacoMarche and @TacoReign. For booking inquiries, please contact Trea Davenport at treadaypr@gmail.com or (678) 327-8281