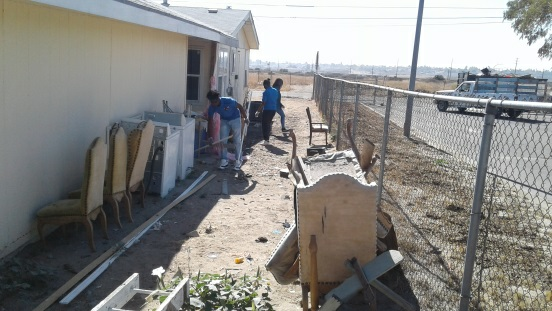 Civics and service were the lessons of the day PAL Center CEO Dwaine Radden Sr. said to student's volunteering as Supervisor Gonzales hosted a community clean-up day for the city of Muscoy. PAL Center graciously hosted the event as a dump site where residents could bring appliances, tires, furniture, metal, and more in an effort to clean up the community. PAL was one of two sites in the neighborhood for this annual event and their student Ambassadors benefited immensely from the experience.
Onsite planning their campus activities for the 2017 -2018 school year as well as preparing for the upcoming Halloween Festival, PAL Ambassadors took a break from their Saturday agenda to meet with Supervisor Josie Gonzales. She offered a wealth of information as she took a moment for a photo-op and selfie session with this group of High School students.
"The reason it's important to learn about Civics, Government, and Politics is it teaches you the shortest route to the solutions for everyday problems. You now have the beginning of the answer. Government is there for everyone but not everyone knows how to use it as the solution." Supervisor Josie Gonzales
Totally unplanned was the genuine act of service extended by this group as they all pitched in to assist a neighbor of PAL in clearing out the large waste items on their property. Everyone rolled up their sleeves and got busy doing the work of service as a real-time example of leadership in motion. The team spent nearly an hour of their day with Supervisor Gonzales clearing out debris while San Bernardino County Code Enforcement officers lent a hand with the heavy lifting and loading of debris onto waste management trucks.
"Cleaning the neighbor's property is certainly not how we planned to spend our Saturday, but the opportunity and experience was invaluable as we attempt to model and teach the necessity of considering others and not just self. Our Ambassadors are AMAZING and they reaffirmed their awesomeness today through service without complaint. We are incredibly proud of who they are becoming." Ms. Domonique White, PAL Student Success Coordinator
Supervisor Gonzales left the PAL Ambassadors with this note, "You must look around and take ownership of the answers. You are the boss of the problem. Be the solution you want to see."
PAL Charter Academy is providing solutions for student success by supporting students through an individualized approach to learning. PAL is currently enrolling for the 2017 – 2018 2nd trimester session as well as PCA Middle School, 6th – 8th grade which opened fall of 2017. For more information visit the website at www.palcharteracademy.org or call 909-887-7002.