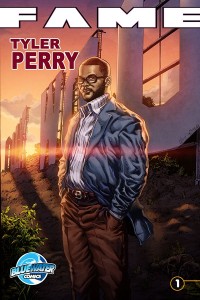 It was recently announced by Bluewater Productions of plans to release a new comic book biography on the life of Tyler Perry, who will be part of the popular Fame series.  Fame: Tyler Perry is scheduled to be released on April 2nd and will be 32 pages available in both print and digital.
Mr. Perry is known for wearing many different hats and wigs, such as actor, director, screenwriter, playwright, producer, author, and now comic book character.  His inspiring life story has had dramatic highs and lows that have launched him to super stardom.  Perry 's signature Madea character continues to entertain and break box office records.
Written by CR Ward with art by Steven Wilcox.  The comic book features two unique covers illustrated by famed comic book artist Mario Gully and Jaume Font.
"There are some celebrities we have done that are just media sensations, then you have someone like Tyler Perry who is a major inspiration to so many people.  I have such respect for him and his story after working on this comic book", said Bluewater publisher Darren G. Davis.
Print copies of FAME Tyler Perry can be ordered for $3.99 at Comic Flea Market here: http://bit.ly/XKXzyo
You can download this title on Wowio, ComiXology, DriveThru Comics, Google Play, My Digital Comics, Overdrive, Iverse, iTunes, Kindle, Biblioboard, ComicBin, Nook, Kobo and wherever eBooks are sold.
Bluewater has focused on other celebrities in the past such as Jennifer Lawrence, Beyonce, Oprah, 50 Cent and more.