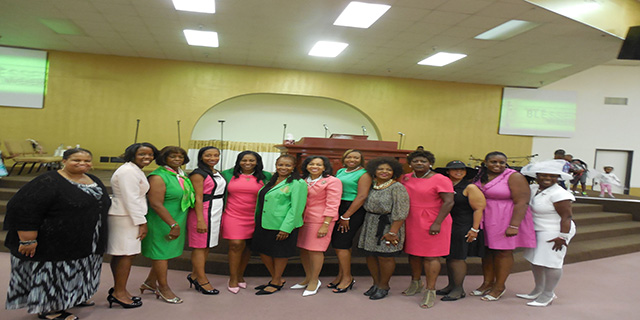 Members of Alpha Kappa Alpha Sorority, Incorporated, and Eta Nu Omega Chapter were among the "Divine Nine (9)" being honored on Sunday, July 20 at Immanuel Praise Fellowship Church by Pastor La Quetta Simmons, Pastor Kelvin Simmons and Minister Jenise Bush.
The "Divine Nine (9)" includes Alpha Phi Alpha Fraternity, Founded 1906, Cornell University; Alpha Kappa Alpha Sorority, Incorporated, Founded 1908, Howard University; Kappa Alpha Psi, Fraternity, Founded 1911, Indiana University; Omega Psi Phi Fraternity, Founded 1911, Howard University; Delta Sigma Theta Sorority, Founded 1913, Howard University; Phi Beta Sigma Fraternity, Founded 1914, Howard University; Zeta Phi Beta Sorority, Founded 1920, Howard University; Sigma Gamma Rho Sorority, Founded 1922, Butler University; and Iota Phi Theta Fraternity, Founded 1963, Morgan State University. Collectively, these organizations make up the National Pan-Hellenic Council.
These organizations may be found in many college-educated Black families with a strong spiritual faith with a connection to "Brotherhood, Sisterhood, Scholarship, and Service."   The "Divine Nine (9)" history is known for having a long tradition of benevolent, forefront of civic action, community service and philanthropy, including such trail blazers as Dr. Martin Luther King Jr. Coretta Scott King, Thurgood Marshall, Maya Angelou, Bill Cosby, Toni Morrison, Arthur Ashe, Lena Horne, Rosa Parks, Hattie McDaniel, Johnnie Cochran, Tavis Smiley, Harry Belafonte and George Washington Carver to name a few.
Members of these organizations take great pride in the sacrifices that the great men and women before them made through the grace of God that provided their current prominence as strong African American fraternities and sororities with a solid, achievement-based history and ongoing tradition of excellence in "servicing all mankind."