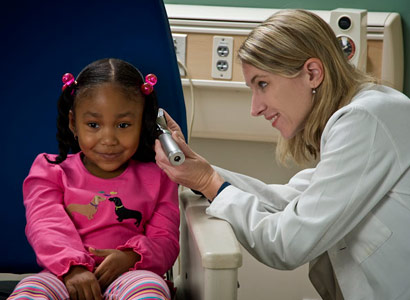 Avoid potential health hazards before hitting the books
Local families are scrambling to check off their back-to-school lists, buying supplies, clothes and more. But doctors say it's important to add one more item to that list — a checkup for your child's health. That's why doctors at local American Family Care and AFC/Doctors Express centers have created the ABCs of Back to School Health.
"Making sure your child is up to date on immunizations and is physically fit for school can prevent a number of problems down the line," said Dr. Bruce Irwin, CEO of American Family Care and AFC/Doctors Express, a local medical practice. "Our clinics offer back to school physicals and immunizations daily, and we're open late, so busy families can fit a visit into their schedules."
Athlete Awareness:  Heat-related illnesses often strike during summer/ fall sports prep. A recent study found that athlete heat death rates are rising with 18 deaths between 2005 and 2009, and 20-22 more since 2010. High school football players account for most of the deaths.
The National Athletic Trainers Association says athletes can do their part to stay healthy in the heat and avoid dangerous conditions like heat exhaustion and heat stroke.
•    Work slowly to build up endurance in hot situations.
•    Get plenty of sleep
•    Drink lots of fluids before, during and after workouts.
•    Quick cooling is key to preventing deaths; ice baths can save lives.
Better Backpack:  Heavy backpacks can strain kids' muscles and can cause long term damage over a period of time. The American Academy of Pediatrics (AAP) found the average sixth-grader carries a backpack weighing more than 18 pounds, with some reaching as much as 30 pounds. The academy recommends that backpacks weigh no more than 10 to 20 percent of a child's weight.
The AAP offers some tips for better backpacks.
•    Backpacks with shoulder straps and padded backs can better distribute the weight of a backpack. Make sure your child uses both shoulder straps on their backpack. Putting the entire weight of the backpack on one shoulder can strain muscles.
•    Organize your child's backpack with heavier items close to the center of the back.
•    Use the available compartments to distribute items equally throughout the pack.
•    Rolling backpacks can be great for heavier loads, but your child must be able to carry it up the stairs or through inclement weather.
Clean Hands and Surfaces:  Since children are highly likely to be exposed to germs at school, here are some of the most common illnesses that strike children during the school year.
•    Meningitis and meningococcal disease
•    Influenza
•    Norovirus
•    MRSA (staph)
•    Pertussis (whooping cough)
Simple safety tips like regular hand washing and up-to-date immunizations can help prevent the spread of these infections. Local doctors say a back to school checkup can make sure your child is healthy enough for the school environment. A quick checkup offers a chance to catch up on vaccines, get a doctor's note for necessary medications at school or get a sports physical.
(Sources: American Academy of Pediatrics, National Athletics Trainers Association, National Institutes for Health, Clinical Infectious Diseases journal, U.S. News and World Report)