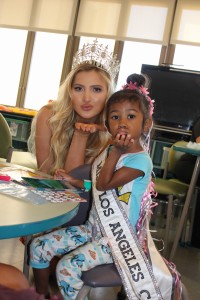 LOMA LINDA, CA- Miss Los Angeles County 2017, Katie Bozner, visited patients at Loma Linda University Children's Hospital (LLUCH) Wednesday, August 9. The 22-year-old beauty queen, a Corona native, spent the afternoon talking to patients in playrooms and went bedside to those who were unable to leave their rooms.
A University of Redlands graduate, Bozner's interactions with the children came naturally. "I really enjoy visiting with kids," she said during her visit, "and they seem to like me too."
In addition to taking photos with the kids, Bozner delivered princess crowns, goodie bags and other gifts she made herself to patients, whose smiles reflected the sparkly crown adorned on her head. 
Bozner won the Miss LA County title in October 2016. Although she will give up her title in two months, she is looking forward to competing in the Miss California pageant in December.