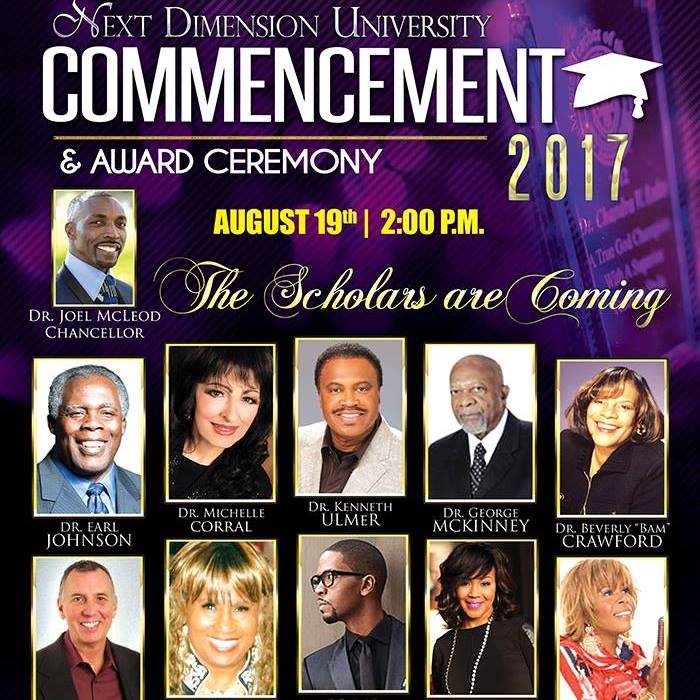 LOS ANGELES, CA- Dr. Joel McLeod, Chancellor of the Next Dimension University, an accredited Bible College, with campuses throughout California and extension schools throughout the USA, is pleased to announce the 2017 Decennial Commencement and Awards Ceremony Weekend.  This year marks ten years of academic excellence at N.D.U. The Commencement will be held Saturday, August 19 at 2 p.m. at West Angeles Cathedral located at 3600 Crenshaw Boulevard in Los Angeles.  The Commencement is free and open to the public. 
Dr. Kenneth Ulmer, of Faithful Central Church, will give the commencement address, and Dr. Michelle Corral will give the official "Send Off" address.  NDU will be honoring local and International gospel greats, Warryn and Erica Campbell and Teddy and Tina Campbell (Mary Mary), Donald Lawrence, Vanessa Bell-Armstrong, David Hollister, Bobby Jones and more; honor will also be bestowed upon other ministry leaders such as: Apostle Beverly BAM Crawford, Apostle Jean Perez, Apostle Felix Larsen (from Botswanna, Africa) Dr. Margaret Douroux, Apostle Sarah Morgan, Apostle Venissa Jackson, First Lady Patty Shipp, Bishop Roger Thomas, Bishop Kevin Truitt, Bishop Curtis Kelley, and from the Netherlands, Apostle Evelyn Kuwoe and Howard and Danielle Taylor.
Other notables include: Kevin Nash, Vickie Mack, Reginald Utley, Paul Jackson Jr., Nate Watts, Sharon Takaha, Linda Johnson-Hayes and Nwannia Lyles.  
Special music by Beau Williams with the NDU Choir.  Lastly, we want to acknowledge and honor Mary Virginia Jones, a grandmother that served 33 years incarcerated and was faithful to God, studying the Word of God, believing her release was in God's hands.
After the commencement, there will be a formal banquet: "The Black, White and Gold Gala" at the LAX Hilton. The Black, White and Gold Gala will be held at the LAX Hilton 5711 Century Bl. LA 90045.  Guest Speaker will be Dr. Beverly BAM Crawford.  This event will include The God Awards.  Recipients will be presented their Awards by special guest, to include Dr. Joel McLeod, the NDU Chancellor, Dr. Evelyn Saucer, Dr. Evelyn Reason and Dr. Rose Parker and other distinguished presenters.
NDU Alumni and Past Honorees, included Fred Hammond, Apostle Frederick K.C. Price, Yolanda Adams, Randall Cunningham, Judge Mablean, Janet' Dubois, Judy Jacobs, Bishop Noel Jones, Cecil Murry, Jack Hayford and more.  
Red Carpet will begin at 12 noon on Saturday for the Commencement, and 6:30 p.m. on Saturday night for the banquet.   
For more information and for Banquet tickets; contact Dr. Evelyn Saucer, e.saucer@yahoo.com 951 567-9716.  For Press Conference, Interviews and Media credentials, contact Dr. Rose at drrose.ndu@gmail.com 909 528-8350. 
For information about Next Dimension University call 888 206-4344.  Visit our website at www.nextdimensionuniversity.com.