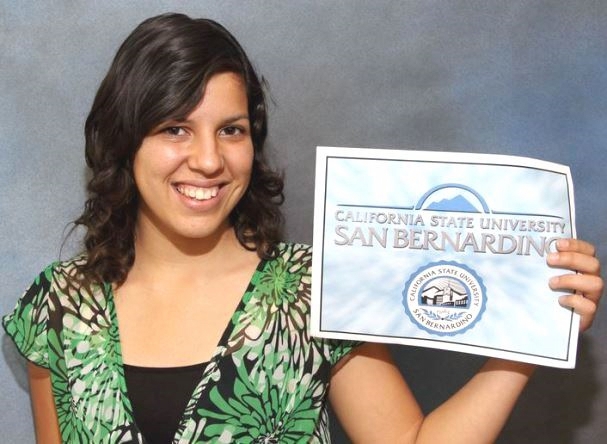 S
AN BERNARDINO, CA— 543 students will graduate from Pacific High School this week, led by valedictorian Vanessa Marin, joining many of her classmates as the first in their families to both graduate from high school and go on to attend college or university.
Vanessa was accepted by several schools in the University of California system, but chose Cal State San Bernardino when offered a President's Academic Excellence Scholarship (established under former CSUSB President Dr. Albert Karnig). Pacific High School graduates have done very well this year, receiving 44 of the 200 Valley-Bound Scholarships issued in 2013 – the most from any one high school in the Inland Empire. That is commendable achievement that reflects the measurable gains that Pacific has made over the last three years in the state of California's Academic Performance Index (API).
Tex Acosta, the principal at Pacific High has taken a personal approach: on campus with students and encouraging parent participation, and as part of the school district's Strategic Planning efforts. School Improvement grant funding benefited the school by providing teachers greater access to professional learning opportunities focused on improving student academic achievement.  And in 2012, Pacific High was recertified as a National Demonstration School for the Advancement Via Individual Determination (AVID) program, a status is achieved by fewer than 100 schools nation-wide, and making it a model for strengthening other AVID schools.
During these same three years, student referrals and suspensions have dropped 66 percent at the high school!
Certainly, more work needs to take place at Pacific and across the San Bernardino City Unified School District to boost students' chances of success after graduation, in college and in the workplace, and to continue the journey toward excellence.  They deserve support and praise from their community.
When Pacific's Class of 2013 marches across the stage at Bailey Bowl to receive their diplomas, they will not only represent their personal achievements, but also the achievement of their parents, their teachers, and their administrators. Go Pirates!! (WSSN 5/17/13)