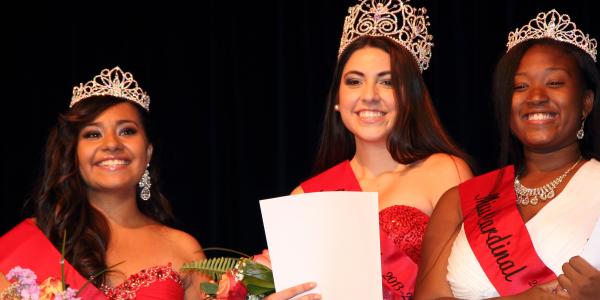 SAN BERNARDINO, CA- San Bernardino High School is seeking sponsors for its 10th annual Miss Cardinal City pageant, scheduled for Saturday, September 20 at Sturges Center for the Fine Arts. Bilingual School Outreach Worker Jamie Rios founded the Miss and Mr. Cardinal City pageants to promote school pride and self-esteem among the students. The pageants have blossomed into a chance for students to develop leadership skills and become involved in their community.
Miss Cardinal City contestants, all high school seniors, compete in both on- and off-stage events. A panel of community judges will rank contestants in the September 20 on-stage events, including evening gown, interview, and sportswear. Off-stage rankings include grades and attendance.
Rios hopes local businesses will support the school and young ladies by sponsoring the event with cash or in-kind donations. Miss Cardinal City 2014-2015 will represent San Bernardino High School alongside reigning Mr. Cardinal Samuel Moreno and his court, Rosalio Cruz and Joseph Ortega.
Sponsors for the Mr. Cardinal City 2014-2015 pageant, held in April, included Toyota of San Bernardino, Fairview Ford, D'Arca Formal Wear, San Bernardino Councilwoman Virginia Marquez, Pat Williams of Angels' Closet Charities, First Presbyterian Church, Mr. & Mrs. Robert Hickey, Trophy House, Mr. Jim Smith, The Way World Outreach, Mr. & Mrs. Daniel Arellano, The Sun newspaper, Dr. and Mrs. Michael A. Lawrence, San Bernardino High Class of 1952, and Stater Bros. Markets.
To sponsor the Miss Cardinal City pageant, contact Jamie Rios at (909) 881-8058.