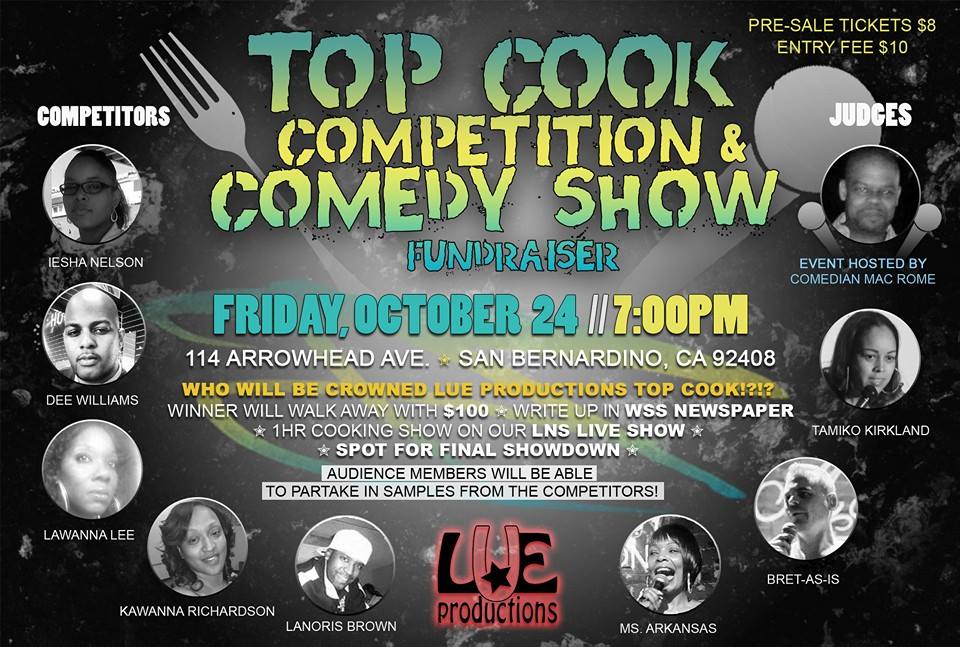 What It Do beautiful people of the inland empire! So, I have a question. Is food considered art? Well, in my eyes yes, yes, and yes! Okay you guessed it I'm greedy and love to eat new and exciting foods, and this Friday it's going down! My company LUE Productions is holding a TOP COOK Competition and Comedy Show Fundraiser! Food and laugher goes hand and hand. I will be your lovely event host. Come out and sample a variety of food and get your laugh on, all at the same time.
Who will be known as the TOP Cook for our LUE Productions 2014 TOP COOK Competition and Comedy Show? We have five cooks in the mix. Come watch as these talented and amazing cooks go head-to-head competing for $100, an internet show interview, a write up in the Westside Story Newspaper, a spot in the final competition, bragging rights, and more! The roster of cooks consists of Iesha Nelson, Lawanna Lee, Kawanna Richardson, Lanoris Brown, and Dee Williams.
The following comedians will have you laughing your butt off! They include, Tamiko Kirkland, Bret As-is, and Ms. Arkansas. The event goes down this Friday, October 24 at 7 p.m. at 114 S. Arrowhead Avenue in San Bernardino. Tickets are on sale now for pre-sale at $8  and it comes with one free drink. Tickets at the door are $10.
For more information, visit www.facebook.com/events/730802746993650.