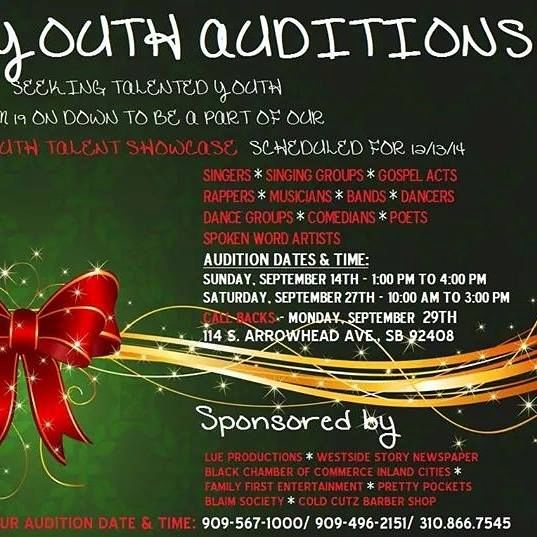 What it do I.E. and neighboring cities! Happy to be back again this week to let you know WHAT IT DO! Well, it's about our young folks. Our community is saturated with talented youth and teens looking for events to showcase their skills. I've witnessed children on more than one occasion at several neighborhood events singing, dancing, and rapping. Come on let's be honest, how many of you have given Lil' Jon Jon or Sara a dollar or two to perform at the family function because they have amazing talent? I know I'm guilty of it.
Please help us spread the word about our FREE YOUTH auditions. Let's get them off the streets and on the STAGE! The "Youth Holiday Talent Showcase" is sponsored by LUE Productions, Westside Story Newspaper, Black Chamber of Commerce Inland Cities, Family First Entertainment, Pretty Pockets, Cold Cutz Barber Shop, and Blaim Society. The event will be held on Saturday, December 13th.
We are calling all Gospel acts, singers, singing groups, poets, dancers, rappers, comedians, and more, as well as youth hosts and models. Registration is free to sign up, and if you are selected you must sale tickets. All participants must be 19 and under. Auditions will be held on Sunday, September 14 from 1 p.m. to 4 p.m. and Saturday, September 27 from 10 a.m. to 3 p.m.
You may send us an audition tape if unable to make the auditions. Please send it to Lue.info@yahoo.com. Please make sure that your footage is no longer than 3 minutes. All final contestants will be contacted by Monday, September 29.