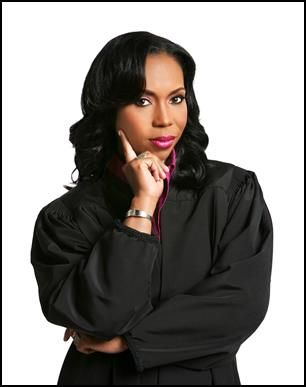 Television personality, author and motivational speaker Lauren Lake takes her seat on the bench this Monday, September 22 as the presiding judge of LAUREN LAKE'S PATERNITY COURT, as it returns for a second season. The show, named the #1 new courtroom series of the year, recently moved production to Atlanta, GA and features Lake, a former attorney and legal expert, who helps families come together to sort out complicated relationships and find resolution in their lives.
In the courtroom series, the sharp-witted Lake helps litigants resolve legal issues involving paternity using DNA results. Lake is a graduate of the University of Michigan and earned her law degree at Wayne State University. She is a member of the New York, New Jersey and Michigan bars with concentrations in family, criminal, entertainment law. A multi-faceted television personality, Lake regularly contributes her no-nonsense, tell-it-like-it-is advice and analysis to some of today's most popular television programs, including "The View," "Good Morning America," "Today," "CBS This Morning," "Access Hollywood Live," "Dr. Phil" and "Dr Drew" and has been featured in articles in various publications, such as The New York Times, Entertainment Weekly, and Time Magazine; she has served as moderator and contributor on panels dedicated to women, relationships, empowerment and family. Originally from Detroit, Michigan, Lake is a dedicated wife and mother who is committed to encouraging and inspiring ordinary people to live extraordinary lives.
LAUREN LAKE'S PATERNITY COURT is produced by 79th & York Entertainment and distributed by Orion TV Productions (Orion Television), a division of Metro-Goldwyn-Mayer Inc.
For more information, please visit the official PATERNITY COURT WITH LAUREN LAKE Facebook page atwww.Facebook.com/PaternityCourt, and follow the show on Twitter, @PaternityCourt, using the hashtag #PaternityCourt, as well as on Instagram, @PaternityCourtTV.