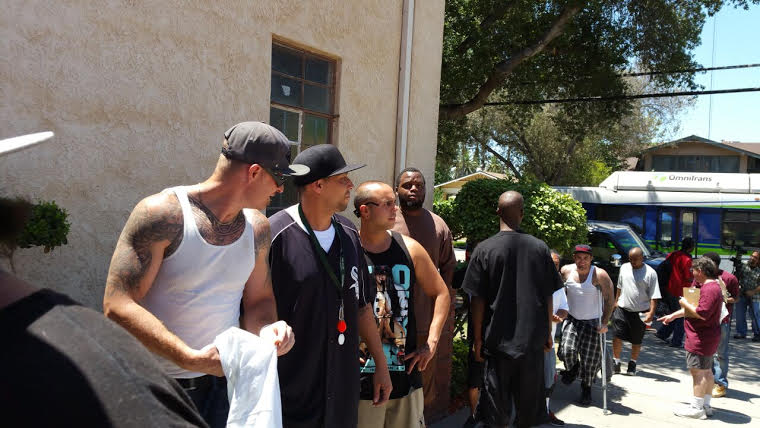 SAN BERNARDINO, CA- Time for Change Foundation (TFCF) and community volunteers gathered to conduct a FREE PROP. 47 FELONY REDUCTION CLINIC, which was held on Saturday, July 25, at The Way World Outreach Downtown Mission in San Bernardino.  After almost 2 months of outreach efforts, those in need of assistance came out on droves to have their felonies reduced to misdemeanors at this one day event. Hundreds of Petitions were completed which will reduce barriers to employment and housing while strengthening families in the Inland Empire!
"We both got our felonies reduced today.  I can get a better job, make more money and buy our first house," said one gentleman while waiting with his 2 children for his wife to finish with the attorneys.
Over 33 volunteers came together to help the community including teams from the San Bernardino and Rancho Cucamonga Public Defender's offices, Attorney Allison Bracy (Ivie, McNeill & Wyatt), Attorney Claudia Lopez (IELLU), Renea Wickman (Political Activist and Community Organizer), Donna Ferracone (Board of Trustees SBCCD and TFCF Advisory Council Member), Roxanne Williams (6th Ward Candidate for San Bernardino City Council), Dov Cohen, University of Redlands students Emma Wade and Jewel Patterson, all TFCF staff and clients.
The San Bernardino County Department of Public Health brought their 40' van to provide health screenings and Budget Mobile was on hand with free phones. Lunch was provided by TFCF and prepared by The Way World Outreach volunteer food team.  Computers for the event were provided by Tracey Holcomb from SGDIG.
This event was a part of CHAMP47 (Creating Healthy Alternatives Mobilizing Prop. 47), an initiative of TFCF created to implement Proposition 47, The Safe Neighborhoods and Schools Act, which was approved by voters in last November's election.  The CHAMP47 campaign will help to improve health and safety of our community which has been devastated by mass incarceration. It will also help rebuild families by removing underlying barriers to employment, access to health care, and education in San Bernardino.