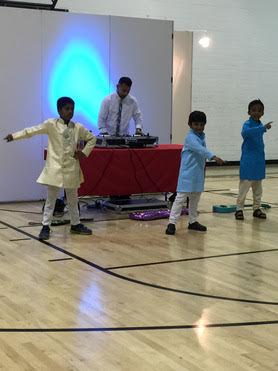 REDLANDS, CA – This past Saturday, Music Changing Lives, (MCL) hosted their 8th annual Lights on Afterschool celebration at the Redlands Community Center.  Lights on Afterschool is a national celebration recognizing the importance of after-school programs for children, parents and the greater community.
Music Changing Lives celebrated by hosting a musical performance competition, visual arts display and a fashion show!  MCL students worked for several months preparing for the fun and entertaining celebration.  First place in the vocal competition went to 9 year old singer Valeria Solis who sang "Stay" by Rhianna.
Trisha Sherman is the Art Director at the MCL Redlands location and she worked with her student artists on the visual artworks display, along with coordinating the very stylish fashion show.
Two students, Julian Amaro and Angela Pallares from the Art Institute of San Bernardino who intern with MCL showcased their Spring Bloom Collection for the show, while art instructor Eva Urbano, designed the tutu dress collection for the young female art students strut in during the fashion show.
Program Director and lead Audio Engineer for MCL, Steven L. Hernandez organized Saturday's showcase and commented, "I started at MCL three years ago and when I started I thought this was crazy because I hadn't heard about a program like this before. But when I started working with kids who had difficulties and problems, I realized this was one of the places they could come to not only be themselves, but could grow and escape from what they may have to deal with every day."'
Music Changing Lives offers students at the Redlands Community Center recording sessions, vocal coaching, piano lessons, guitar lessons and art lessons Monday – Saturday from 2pm-9pm for only $20.00 a month.
Former student and guest judge for the event, Jose Mariscal of Moreno Valley discovered MCL during his senior year of high school.  Jose credits MCL to opening many doors for him musically and for giving him confidence to perform and audition.
He also enjoys giving back and helping other young artists who were like him a few years ago.
"I was in bad shape, you know, and music got me to focus on what I love doing. I love singing. I love playing the guitar, the piano, the drums. It's one of my dreams," he said.

"We plan to celebrate Lights on After School every year because it not only recognizes the important role afterschool programs play in our communities, it also celebrates the kids in our programs, the arts, the music and all of the achievements we've reached," said CEO & Founder of Music Changing Lives Josiah Bruny.
Afterschool programs keep kids safe, help working families and inspire learning. According to data from the Afterschool Alliance, 14.3 million children are without adult supervision in the afternoon hours.
Visit www.musicchanginglives.org to learn more about MCL or follow the movement on Facebook at www.facebook.com/MusicChangingLivesIE