By Angela M. Coggs
On Saturday, September 5, 2015 Young Women's Empowerment Foundation hosted their 3rd Annual Wellness event in the Henderson Auditorium at San Bernardino Community Hospital. The event began at 8am continental breakfast for all the attendees. The event, "Women Helping 2 Empower Women (W.H.E.W.)", invited women to participate in a day focused on Sickle Cell Awareness and overall health. The idea was to highlight emotional, physical, and spiritual health. The event featured keynote speaker, Dr. Beverly Crockett, featured speaker, Farron Dozier, and the testimonials from Therese Adjivon, Carletta Loftin, and Janice Freeman-Neubel.
The event was kicked off by Young Women's Empowerment Foundation founder, Gwen Rodgers' warm welcome.  The call to action from Rodgers to become aware and vigilant about health and fitness was heard loud and clear thoroughout the day. Activities focused exercising the body beginning with Reverend Bronica Martindale- Taylor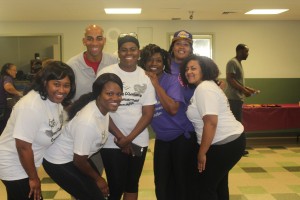 physical activity called, "The Harvest Dance." Everyone was out of their seats and participated wholeheartedly.
Feature speaker Farron Dozier, a Sickle Cell Advocate and radio personality on WDC Radio Show, spoke passionately about living with sickle cell trait after learning he had Sickle Cell when he was 29 years old when was he a Sergeant First Class in the United States Army.  Dozier was discharged from the military because he was no longer physically fit for service. His youngest of three daughters (Deja Dozier) was also diagnosed with sickle cell at a young age.  His story reverberated with the audience as he spoke about the pain he endured growing up and it being dismissed as growing pains. He discussed his experience living with the disease known as, "The Silent Killer," which primarily affects the African American population but has been known to affect other nationalities.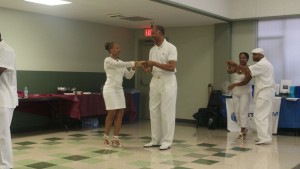 Dozier's organization, "WHATZ DA COUNT," and his campaign, "What'z in your Genes?" provides sickle cell trait awareness and to re-educate the community about the sickle cell trait and thalassemia trait.
After Dozier spoke about the importance of getting tested for Sickle Cell, over 30 attendees signed up and were tested by medical professionals from Community Hospital where a room was set up to draw blood. Attendees, speakers, vendors as well as YWE Board Members were tested and the results will be sent to them in the mail in the next few weeks. Another highlight of the day was the powerful testimonials.
Therese' Adjivon is a young woman who is determined to change lives. She was diagnosed with Sickle Cell Anemia at the young age of 3. Although she has struggled with obstacles in her life, her positive outlook was sensed by everyone on the room. She credited her mother for allowing her to be raised in her home and not in a hospital room. Despite the hurdles she has to endure she still finds time to be a mentor and coordinator for an organization called FOOCUS2 and also an advocate for patients that battle Sickle Cell and other rare disorders. Adjivon spoke with passion and her words resonated with the audience when she said, "Just because I have Sickle Cell doesn't mean that it has me."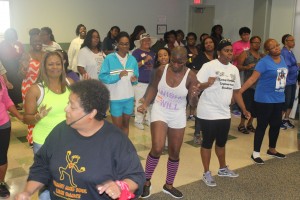 Carletta Loftin began her testimonial with playing the beginning of Kirk Franklin's song, "Declaration (This Is It!)". She said that the words meant a lot to her. She started her testimonial by saying she was a mother of three but later indicated she was diagnosed with Bell Palsy/ Blood Disorder which prevented her from carrying her first two children to term. Her daughter Carrington is her little miracle baby. Her story of determination and survival was deeply felt by the attendees. Loftin words of purpose and encouragement touched the audience in such an uplifting manner that it inspired many to stand to their feet and shout. She is a fighter and is not willing to give in or give up on the fight.
When Janice Freeman-Neuble, a neo soul artist originally from Harrisburg, Pennsylvania, stepped up to the podium to share her story she began to sing "I Won't Complain." Her voice was so strong and her vocals filled the room. The words alone evoked heartfelt emotions and she shed a few tears along with the audience. After gathering herself she simply stated, "For as long as I can remember, I've always been sick." She shared her life and her struggle. She recounted how doctors gave her mother six weeks to plan her funeral when she was a young child. "I have been struggling with Lupus since 2007, but I have had severe illnesses as far back as I can remember," Neuble proclaimed. She was very young when she was diagnosed with a kidney infection and she had meningitis in the ninth grade. It has been a very long struggle for her but she counts her husband Dion, daughter Hannah, and stepson Dylan along with her strong spirituality as her strength as she takes each day at a time.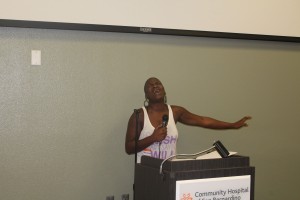 "Her voice, which permeated the air, echoed her life experience. Every melodious word was an expression of pain and appreciation, of struggle and triumph of frustration and confidence," Kimberly Garret said of Freeman-Neuble. "She reminded us all that God's mercy and goodness is sufficient. Her strength brought me to tears." At a glance, prayer circles were seen throughout the room. It was defiantly an emotional event, but it was also a safe place to be vulnerable and let go.
Dr. Margaret Hill, San Bernardino City Unified School District Board of Education Vice President, was present and also participated in the fitness activities of the day. When Harriette Coggs- Stuckey, Founder/Director of Heart and Soul Line Dance, invited the participants to learn a dance/exercise she choreographed, Dr. Hill was on the floor with everyone else. Several routine were taught and practiced by the group and everyone appeared to enjoy themselves. "I enjoy workshops where there's something for everyone. Seeing the young and the mature on the same dance floor at the same time was phenomenal. I guess it's called building age cultures," said Hill when asked her perception of the day's event.
A Step Ahead Entertainment demonstrated a Chicago Steppin' dance routine choreographed to Janet Jackson's new song, "No Sleeep", that was exceptional. The men and women looked radiant in their all white outfits.  Afterwards the dancers gave step-by-step instructions to the audience and many of them took to the dance floor and tried the dance moves. Everyone involved had a really good time.
Just Move Consulting Director and Lead Trainer, Author, Health and Fitness Specialist, Erin Young, invited a few audience members to come to the front of the auditorium to practice a few exercises that she demonstrated. She explained that one does not have to go to the gym in order to work out and be fit. Audience members asked questions and participated in the activity. Using a medicine ball, resistance bands, and chair she taught the group effective and useful.
Keynote speaker, Dr. Beverly Scott, author of, "Just Run the Race- You Are a Champion," closed the event with a motivational speech about running your race, fighting your personal battles, surviving challenges, and being champions. She shared her personal struggles and showed how this disease (Sickle Cell) affects everyone including her as she shared about a family member who struggles with this disease and how they elects to deal with it. She encouraged and uplifted those in attendance by saying that no matter what someone goes through, we can beat the odds and come out victorious.
Overall, the event was a success. Young Women's Empowerment Foundation raised the bar when it comes to wellness events in San Bernardino and the Inland Empire. Attendee Sharon Ellis stated that "the event was well organized, time conscious, informative and a lot of fun." The community event was inspirational, a worthwhile cause focused on fitness for the mind body, and soul, which provided a day of awareness, soul searching, and unity. "I was pleased with the integrity of the group of women sponsoring the event. This was my first time at a Young Women's Empowerment Foundation event and health awareness clinic in San Bernardino. I was a vendor at the event but I was also able to participate in the informational and physical fitness sections of the day," said vendor Garbrille Stuart, from 1 Pound at a Time. "I appreciate YWE for the opportunity to allow me to showcase my organization and learn the importance of health, wellness, and the importance of getting screened for Sickle Cell.  YWE did a fantastic job. I commend them for their leadership and professionalism. I was grateful and moved by all the speakers for sharing their knowledge."
"I am excited about what the YWE's Board is doing to promote wellness for women in San Bernardino. None of this could happen without the continuous support from the community and our sponsors, such as Dignity, Edison International, and Kaiser Permanente," said Gwen Rodgers, Founder of Young Women's Empowerment Foundation. "W.H.E.W. was a powerful event and there are more to come. I'm also looking forward to Young Women's Empowerment Foundation's 10 year anniversary, "Night of Elegance" Fundraiser in January. Stay tuned and like the Young Women's Empowerment Foundation Facebook page."