RIVERSIDE, CA- On Saturday, May 16, the red carpet was rolled out for student artists who rocked the stage at the UCR Campus Theater in the much anticipated Changing Lives Showcase!
The red carpet extravaganza was presented by Music Changing Lives, (MCL) a non-profit music and art after-school program for at-risk children and youth, which works to inspire kids through performing arts programs to keep them focused on their education and their futures.
The evening was definitely a night to remember. As guests arrived, they walked on to the red carpet to have their photo taken, then were treated to delectable Hor D'oeurves and refreshments as they entered the theater. Then shortly after there was an incredibly entertaining show from students who set the bars high for talent in the Moreno Valley for the fourth year in a row.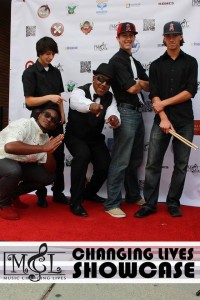 Four schools from the Moreno Valley School District, where MCL offers its programs, brought their A-game to compete for the Bruny Awards.  Teens from Vista Del Lago High and Moreno Valley High battled it out, while younger students from Butterfield Elementary and Edgemont Elementary competed against each other.
Participants competed for the Bruny Award in four categories – Musical Instruments, Lyrical Performance, Band, and Visual Arts, while the schools competed for Overall Performance.  The fate of these talented kids rested in the hands of two celebrity guest judges, hip-hop artist L'Marco Smith and singer Joamber Armijo.
The competition was fierce, but in the end Butterfield Elementary beat Edgemont Elementary and Moreno Valley High triumphed over Vista Del Lago for the third year in a row! First place winner for the Bruny Award in Musical Instruments was Jose Davalos from MoVal High and Edgemont Piano Group: Albelina Perez, Pilar Ramirez, Carolina Cortez, Yoselinee Barajas and Isidro Quitnero.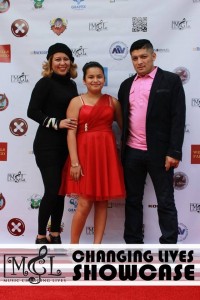 In the Lyrical Performance Jabri Baqvet from MoVal High and Jalie Leon from Butterfield reigned in first place.
Vista del Lago students: Fernando Barrera, Luke Bythe, Peter Bythe and Justin Allen dominated the Band category and took home the first place Bruny Award.
The very talented Sandy Calero from MoVal High and Maria Lomeli from Butterfield both took home first place in Visual Arts.
Every student who participated also was honored with a certificate from Senator Richard Roth's office and Assemblymember Jose Medina for their dedication to make a difference in their community.
As students prepared to compete in the showcase they also managed to increase their school performance by volunteering for a minimum of five hours in their community.  Participants were instilled with the message, "Together we can be the change we would like to see in our community."
The Changing Lives Showcase was sponsored by Music Changing Lives, MVUSD, Wells Fargo Foundation, UC Riverside, San Manuel Band of Mission Indians, Target, Edison International, Goliath Graffix and Clothes the Deal.
For more information about Music Changing Lives send an email to info@musicchanginglives.com or visit them on the web at www.musicchanginglives.org.