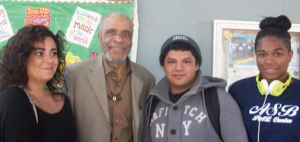 SAN BERNARDINO, CA- Internationally acclaimed poet and author, Mr. Eddie Bell, shared his career as a poet and discussed his poetry and writings at the PAL Center and Charter Academy in San Bernardino on Thursday, February 13.
Mr. Bell, a motivational speaker and educational consultant, told of his personal experiences, and related stories about people and life experiences through the eyes of a Black man. Several members of the audience noted similar experiences of inequitable treatment to overcome during their lifetime. The overarching theme was to overcome all obstacles and achieve the goals that one sets for self.
His poems about life evoked deeply felt emotions as he presented in oral form. He is the recipient of multiple grants from the New York Foundation for the Arts, the French Ministry of Culture, and other sources. His works, published in English, have also been translated into French and Russian. Accessible to audiences old and young, and without racial or cultural barriers, during the question and answer period, the totally immersed students and teachers exhibited their intense appreciation of the opportunity to interact with this very personable and noted poet.
Mr. Bell was accompanied by Dr. Brian Haynes, Vice Presidentof Student Affairs at California State University San Bernardino.