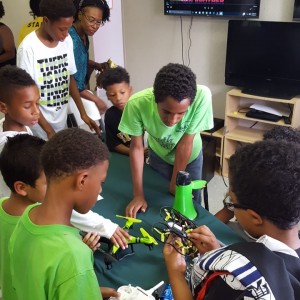 Last year, U.N.C provided backpacks and school supplies to 400 students and introduced each of them to S.T.E.A.M (Science, Technology, Engineering, Arts, Mathematics) learning and careers, through engaging activities and workshops. Because of last years' event success, demand has increased and U.N.C is committed to turning no child away. San Bernardino youth are often overlooked, U.N.C is dedicated to standing in that gap. Their goal is to serve 1,000 students with much-needed tools to support their confidence and success into the school year.
Participants of this year's Extravaganza will engage with S.T.E.A.M experts and volunteers through various workshops including Crypto math, Builders Space, Chemical Composition, and Science Experiments. This free community event will inspire youth and give them hands-on exposure to careers within S.T.E.A.M fields.
"We are so excited to be able to expand our capacity to help the many families in need, while also planting seeds into the youths' future," explains founder La'Nae Norwood. "The event could not be as impactful without the support of the community, the U.N.C Team, our partners, and volunteers."

She continues, "I am overjoyed by the amount of support exhibited and how far resources go when we are united. When nonprofits work together with local government, elected officials, organizations, businesses and the community, the possibilities for improvement are endless. That is one of the most responsive and ideal forms of unity."
United Nations of Consciousness welcomes community members and partners to support San Bernardino youth in this event. Any size monetary donations, backpacks, and school supplies such as pencils/pens, paper, colored pencils, crayons, erasers, glue sticks and folders are welcomed to help make this event a success. All contributions are tax-deductible. If you would like to donate, volunteer, or be a vendor please email info@unclife.org or call U.N.C office at (909) 575-8862, Monday through Friday from 9 a.m. to 3:30 p.m. For more details or to RSVP, please visit www.unclfie.org.