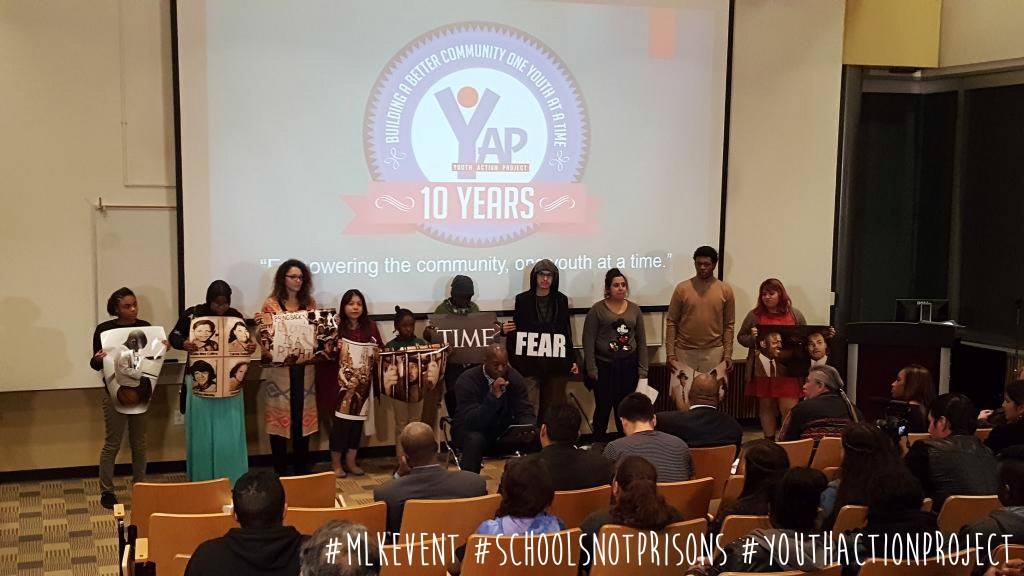 SAN BERNARDINO, CA- On Friday, January 15, 2016, Youth Action Project hosted YAP TALKS: A Martin Luther King Jr. event, to commemorate and honor Dr. King's life and legacy. This event was held at the San Bernardino Valley College Library Viewing room.
YAP TALKS strongly resembled a TED Talks. Four speakers were invited to deliver 15-minute speeches that incorporated the philosophies, teachings and principles of Dr. Martin Luther King Jr. to current issues experienced by San Bernardino community members and its youth. Each speaker projected a positive message by bringing awareness to these issues and by sharing their insight on how we can resolve them. The speakers consisted of:
Enrique Murillo, Professor at California State San Bernardino and Executive Director of Latino Education Advocacy Days (LEAD); Johnathan Buffong, co-founder of Buffong Consulting and Mental Health Consultant with the County of San Bernardino; Raihanah Medlock (Grand Terrace High School, Junior), Sheba Jennings (Summit High School, Junior), & DeVon Clay (California State University, San Bernardino, Freshman); Lolita Lyles, Professor at California State Long Beach and University of La Verne; and Rev. Dennis Brown, influential speaker who is also known as the "Voice of King."
The event also featured a special guest, R&B sensation, Abraham McDonald. You may have seen him on The Oprah Winfrey Show and The Voice. He graced everyone with his humorous personality and beautiful voice.
Jonathan Buffong, a speaker for this event, said, "To see the community celebrate Dr. Martin Luther King life's work and dreams is always a great thing. Youth Action Project went an extra step when they did YAP TALKS, as each speaker not only analyzed King's memory, but also forced the audience to look at ways to actualize how they can implement Dr. King legacy in their daily life. That's when you will see true change in the way we engage with each other".
Eleven-year-old student, Alexis Gallarzo, simply said, "I loved listening to everyone's speech, especially since I am learning about Dr. Martin Luther King Jr. in class right now. The best thing about this event were the girls who free-styled their poems. It was so cool!"
Carol Flores, one of the event coordinators, said, "It was an honor working on an event that served as an agent to promote social change. My goal was to construct an event that would make people think about their current predicament and take action by fighting for social justice and equality as Martin Luther King Jr. did."
Youth Action Project had one purpose in mind when planning YAP TALKS and that was to host a community event that would impact a diverse audience. C.E.O Joseph Williams closed the night with a powerful quote stating: "Youth Action Project was pleased to host this event. Our aim was to see Dr. King's dream implemented. I believe we did just that."