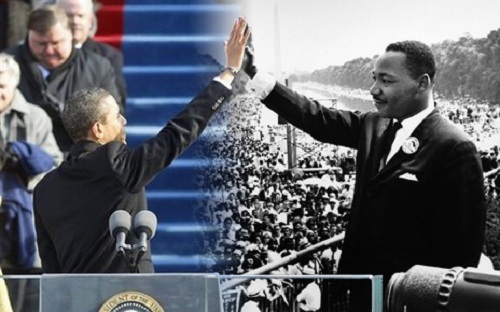 Publishers commentary by Wallace J. Allen
Dr. King's Birthday requires us to annually measure the amount of successful change that has occurred since his death. Our friend Celes King IV was quick to say, "Perception is reality." I think we can agree that the election of Barrack Obama to President of the United States boosted the image of Black men across the planet. It must be considered that if "Black lives matter" is a truer statement today than when Dr. King was alive, that Barrack Obama being President adds to that truth!   In several years, by 2016, people aged ten years and younger will represent members of an exclusive group. The only President of the United States that they will have experienced is a Black Man.  They, having witnessed such proof, will grow up expecting that Blacks can and will excel. That is a major long term benefit of Mr. Obama being President.  He is an inspiration. He inspires young Black children to want to be like him, to become important and influential members of society. He also shows the non-Blacks who harbor the false impression that "Blacks can't" to understand that "Blacks can" and that society benefits when "Blacks do!  We know that low expectations generally come true.  Increased expectations allow room for increased participation and performance.
Increased expectations will cause among other things, a greater competition for participation and an expectation that winning is for the well prepared. Just because the world is more willing to accept that a Black man can do, does not mean that it will be easier for him to do; however, easy is not a requirement!
As we measure successful change, access to opportunity for those who have been deliberately denied that access, is an issue. The imagery of success is great for perception, but reality requires a job count and a measurement of education and quality of life. Access to education, jobs and quality of life for most Americans, Blacks in particular, has diminished since Dr. King's death. The image of the most prestigious office holder on the planet, being racially disrespected under the guise of politics has been a reminder to "old school" witnesses, that racism is alive and that to some Republicans, greed and or "white privilege" is more important than the welfare of the Country.
So, in closing, I will say that the fresh sheets and pillow cases of opportunity make the American bed look better, but the mattress is still lumpy with racism, making a peaceful night hard to come by. Change is occurring but the need for hope is very alive!