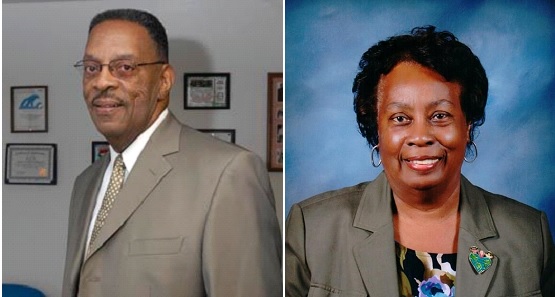 SAN BERNARDINO, CA- The San Bernardino Black Culture Foundation is happy to announce the 2015 Senior King and Queen.  They are Joyce Payne and Mansie Booker and they will be crowned Friday, February 6, 2015.  This is an invitation only event, so if you would like to attend, please contact Margaret Hill at (909) 864-3267.
JOYCE PAYNE – SENIOR QUEEN
Joyce Payne was born in Los Angeles, CA, and attended school there.  She received her Bachelor of Arts in History and her Administrative Credential from California State University, San Bernardino, Pre-Doctorial Studies at Mercer University, Macon, GA and Master of Educational Administration from Boston State College.
Joyce has been a teacher, vice principal and principal for the San Bernardino City Unified School District and recently retired.  She was a long time principal at Dr. Howard Inghram Elementary School but completed her career at Davidson Elementary School.  She also taught in Peach County, Georgia, and Middlesex Community College, Burlington, Massachusetts.  She also served on the school board in Lincoln, Massachusetts.
Joyce is very active in the community.  She is a member of Temple Missionary Baptist Church where she is the director of Christian education.  Other activities include:  Charter member of National Sorority of Phi Delta Kappa, Inc., Delta Rho Chapter, Our Children Sing, Board of Directors, Former Member, California State University Alumni Board, Lifetime Alumni Member, California State University, San Bernardino. She also participates in Community Outreach Programs addressed parenting, literacy, career development and goal setting.
MANSIE BOOKER – SENIOR KING
Mansie Booker, Jr. was born in Burlington, North Carolina on March 18, 1944 to Rev. Mansie Booker, Sr. and Gladys Marie Booker. He is the youngest of two children. At the age of four his family relocated to Raleigh, North Carolina where he received his elementary education at St. Monica's Catholic School. He graduated from J.W. Ligon High School in 1962 and entered the United States Air Force.
In addition to the above, Mansie has been an active member of the Highland Family YMCA and Temple Missionary Baptist Church where he continues to use his production skills. Annually Mansie provides the Black Culture Foundation a video profile of the Humanitarian of the Year awardees. He also videotapes the annual Black Rose event.
Mansie is widowed and is the father of two children, seven grandchildren and four great grandchildren. He attended Yuba College, The University of Maryland, University of Oklahoma and The University of Minnesota and is a graduate of the Community College of the Air Force.