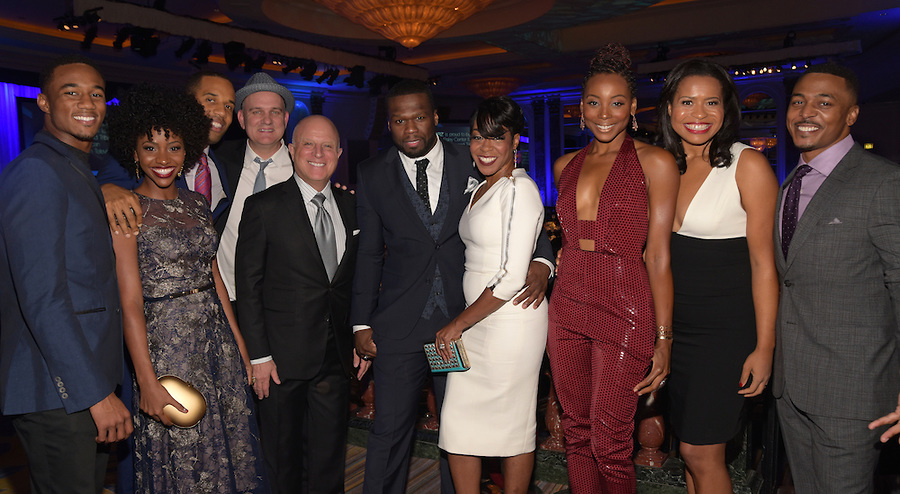 LOS ANGELES, CA- On Monday, October 26, The Paley Center for Media hosted its Hollywood Tribute to African-American Achievements in Television, presented by JPMorgan Chase & Co., at the Beverly Wilshire Hotel in Beverly Hills, California.
With locations in LA and NY, The Paley Center for Media is the leading non-profit cultural institution that showcases the importance and impact of media's role in our society. On this evening, the Paley Center highlighted the deserving accomplishments and illustrated the enormous impact of African-Americans across every genre of television, from news/talk and music to sports, drama, and comedy. Proceeds from the event will benefit the Paley Center's programs and its ongoing efforts to expand and preserve the Paley Archive that includes an African-American collection chronicling seven decades of television content. Tonight's event showcased critically acclaimed programs of historical importance, featured iconic Hollywood talent across generations, and paid homage to creative visionaries from the entertainment community.
The evening included a salute to Black Entertainment Television's (BET) 35th anniversary and also commemorates the 50th anniversary of the Voting Rights Act and television's role as a pivotal platform for addressing important issues, breaking down barriers, and creating social change.
The Paley Center for Media's President & CEO, Maureen J. Reidy, & Frank Bennack, Chairman of the Board of the Paley Center and CEO of the Hearst Corporation were on hand for the celebration. Presenters included: Anthony Anderson, Ava DuVernay, Brandy Norwood, Curtis "50 Cent" Jackson, Debra Martin Chase, Diahann Carroll, Don Cheadle, Jerrod Carmichael, Keegan-Michael Key, Quincy Jones, ReginaKing, Rick Fox, S. Epatha Merkerson, Terrence Howard, Tyler Perry, and Tyra Banks.
JPMorgan Chase & Co. serves as the Tribute's Presenting Sponsor and event co-chairs include: 21st Century Fox / Fox Audience Strategy, Hearst Corporation, The Loreen Arbus Foundation, Starz, and Viacom / BET Networks. Patron supporters of this program include: AT&T; Carl Beverly, Timberman / Beverly Productions;CBS Corporation; Comcast NBCUniversal; Creative Artists Agency; Disney | ABC Television Group; Facebook; FTI Consulting, Inc.; HBO; Hulu, LLC; Lionsgate; Sony Pictures Television; true[X] / Fox Advanced Ad Products; Turner Broadcasting; and Warner Bros. Television Group. The Paley Center's Tribute Committee members include: Chris Albrecht, Kevin Beggs, Peter Benedek, Carl Beverly, Steve Burke, Philippe Dauman, Stephen J. Davis, Clifford W. Gilbert-Lurie, Robert Greenblatt, Doug Herzog, Mike Hopkins, Steve Lafferty, Debra L. Lee, Paul Lee, Dick Lippin, Michael Lombardo, Leslie Moonves, Steve Mosko, James Murdoch, David Nevins, Gary Newman, Rick Rosen, Peter Roth, Philip Schuman, Ben Sherwood, and Nina Tassler.